Trip VTT épique sur les plus hauts sentiers des Alpes du Sud
Vous rêvez de rouler en (très) haute-montagne, de dévaler des sentiers lunaires et de vivre une aventure inoubliable, vous n'avez pas peur des gros dénivelés ni de porter votre vélo... Greg Germain & Tito Tomasi vous embarquent sur un trip VTT hors du commun : un trip itinérant de 3 jours en sur quelques uns des singles les plus hauts des Alpes du Sud, dans des vallées coupées du monde, sur des crêtes incroyables et sur des sentiers magiques. Un terrain de jeu exceptionnel pour un trip exceptionnel qui vous fera également grimper et descendre plusieurs sommets à plus de 3000 m d'altitude, découvrir des paysages à couper le souffle et des lacs sauvages, dévaler des descentes interminables sur des rubans de sentiers magiques, admirer des levers et couchers de soleil, dormir en refuges, et bien plus encore… Un trip unique en son genre avec 1001sentiers (organisateur des plus beaux trips VTT dans les Alpes du Sud depuis plus de 10 ans) et l'un des plus grands aventuriers VTT : Tito Tomasi.
Epic high-mountains MTB trip on the highest trails of the Southern Alps
You're dreaming of high-mountain riding and experiencing a unique adventure on stunning alpine trails, you're not afraid by big ascensions and carrying your bike... Greg Germain & Tito Tomasi are taking you on a MTB trip like no other: a 3-days semi-autonomous all-mountain trip on some of the highest ridable trails in the Southern French Alps, into some of the wildest valleys of this mountain range, on amazing ridges and magical alpine single tracks. A wonderful playground for a wonderful trip that will also make you climb and ride few summits of more than 3000m of altitude, discover stunning landscapes and wild lakes, ride endless descents, sleep in refuges, admire sunrises and sunsets, and much more... Well, a really special adventure with 1001sentiers (organizer since 10 years of the best mountain bike trip in the Southern Alps) and one of the most famous mountain bike adventurer: Tito Tomasi.
Trip all-mountain itinérant sans assistance dans les Alpes, 3 jours/2 nuits, encadré par Greg Germain & Tito Tomasi. Après avoir organisé des Trips 3000 dans les massifs de l'Ubaye, du Briançonnais, du Queyras et du Val Varaita au cours des années passées, en 2022 nous vous emmenons dans le massif franco-italien des Cerces ! Comme toujours sur nos Trips 3000, il n'est évidemment pas question de vous faire faire les grandes classiques de ce massif, nous vous avons tracé un itinéraire vraiment inédit dans les vallons les plus sauvages et sur des crêtes et sommets méconnus de ce massif, avec au menu 75 km de ride alpin en 3 jours, 1 ou 2 sommets à plus de 3000m d'altitude, et tous les ingrédients qui font la magie des trips 3000 : paysages grandioses, nuits en refuge et gîtes de montagne typiques, sentiers à foison, passages scabreux mémorables... Une aventure magistrale et inoubliable !
Allmountain trip in roaming without assistance in the Alps, 3 days/2 nights, guided by Greg Germain & Tito Tomasi. After having organized different Trips 3000 in different parts of the Alps during the past years (Ubaye, Briançonnais, Queyras, Val Varaita), in 2022 we'll bring you in the franco-italian massif of Cerces! Ss always on our Trips 3000, there is no way to simply follow the most popular routes of this massif, we've designed a really special and unique itinerary visiting the wildest valleys, secret ridges and unknown summits of this massif, with 75km of alpine riding in 3 days, 1 or 2 summits above 3000m of altitude, and the whole magical ingredients of our Trips 3000: stunning landscapes, nights in refuges, endless trails, epic sections... A masterful and unforgettable adventure!
NB: Impossible de faire ce trip en VTTAE (nombreux portages et problématique de recharge des batteries)
Impossible to do this trip with an eMTB (lot of shouldering and difficulties to recharge batteries)
Prochaines sessions (Coming trips)
- La session 2022 est déjà passée
- Les dates du trip 2023 seront dévoilées à l'automne
- Contactez Greg pour un trip à la carte (groupes constitués)
- N'hésitez pas à vous pré-inscrire ci-dessous pour être informé en avant-première de la prochaine session
- The session 2022 is behind us
- The trip 2023's dates will be released at the autumn
- Contact Greg for a private trip (groups constituted)
- Don't hesitate to pre-sign-up bellow to be informed first of the next session
Trips à la carte (Private trips)
La date ci-dessus ne vous convient pas, vous êtes un groupe, vous souhaitez une session privée... Pas de souci, on vous organise un trip à la carte !
The dates above don't suit you, you are a group, you want a private session... No problem, let's plan a private trip for you!
→ Contact Greg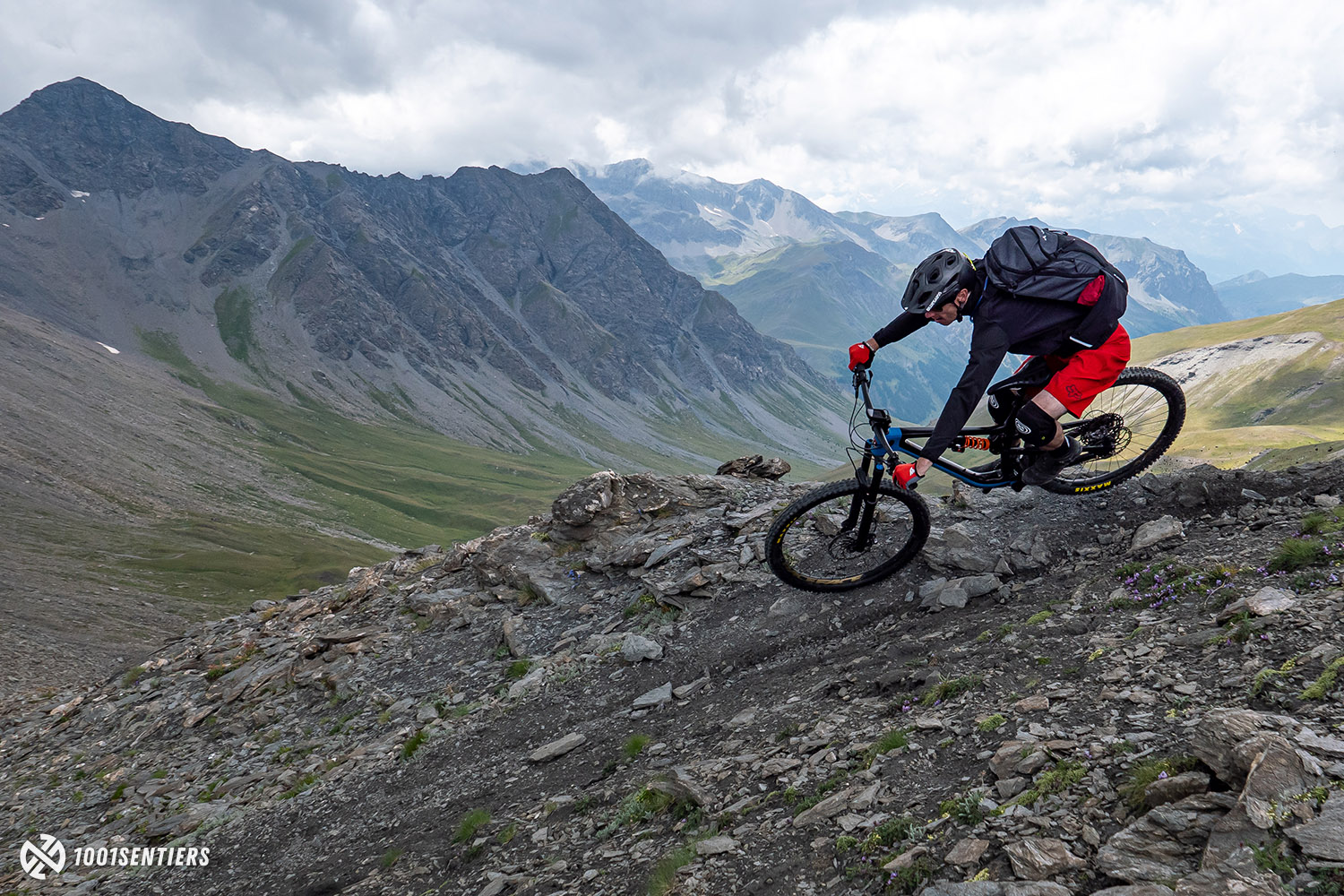 Informations
• Prix incluant (Price including)* : 3 jours de ride, 2 nuitées en refuges/gîtes, pension complète, encadrement, photos (3 riding days, 2 nights in refuges/lodges, full-board, guiding, photos)
* Réduction -5% pour les membres du Club 1001 (Discount -5% for members of the Club 1001)
• Inscription (sign-up) : ci-dessous (bellow)
• Infos pratiques & modalités de paiement (practical informations & terms of payment) : communiqué par email aux participants (sent by email to participants)
Inscription (Sign-up)
Remplissez le formulaire ci-dessous. Vous recevrez les informations par email.
Fill the form bellow. You will receive informations by email.

Les informations recueillies sur ce formulaire sont exclusivement réservées au fonctionnement interne de 1001sentiers et à la communication entre 1001sentiers et vous. 1001sentiers s'engage à garder strictement secrètes vos informations personnelles et à ne les communiquer à aucun tiers. En remplissant ce formulaire, vous autorisez 1001sentiers à vous contacter par email et à vous ajouter à sa newsletter. Conformément aux lois « Informatique & Liberté » et « RGPD », vous pouvez exercer vos droits d'accès aux données, de rectification ou d'opposition en nous contactant par email.
The informations collected on this form are exclusively used for the internal functioning of 1001sentiers and for the communication between 1001sentiers and you. 1001sentiers certifies to keep secret your personal informations and not to share them with anyone. By filling this form, you agree 1001sentiers to send you emails and to add you to its newsletter. In accordance with the laws "Informatique & Liberté" and "RGPD", you can exercise your rights of access to data, rectification or opposition by contacting us by email.