4 jours pour rider les 4 spots les plus fous des Alpes-Maritimes
Les Alpes-Maritimes sont truffées de spots et chemins atypiques. Ce trip exceptionnel vous emmène découvrir 4 pépites de ce département : les fameuses terres grises, les spectaculaires roches rouges, les séries d'épingles montagnardes caractéristiques du 06, et les trésors du pays côtier (dalles de gré et voies rocailleuses). 4 spots magiques, 4 vallées différentes, 4 jours de ride contrastés, pour un trip all-mountain haut en couleurs et en émotions fortes !
4 days to ride the 4 craziest spots of the Maritime Alps
The Maritime Alps are full of atypical spots and trails. This amazing trip takes you to discover 4 jewels of this aera: the famous grey earth, the spectacular red rocks, the alpine switchbacks series characteristic of the 06, and the treasures of the coastal country (sandstone slabs and rocky trails). 4 magical spots, 4 different valleys, 4 contrasted days of riding, for an all-mountain trip full of colors and strong emotions!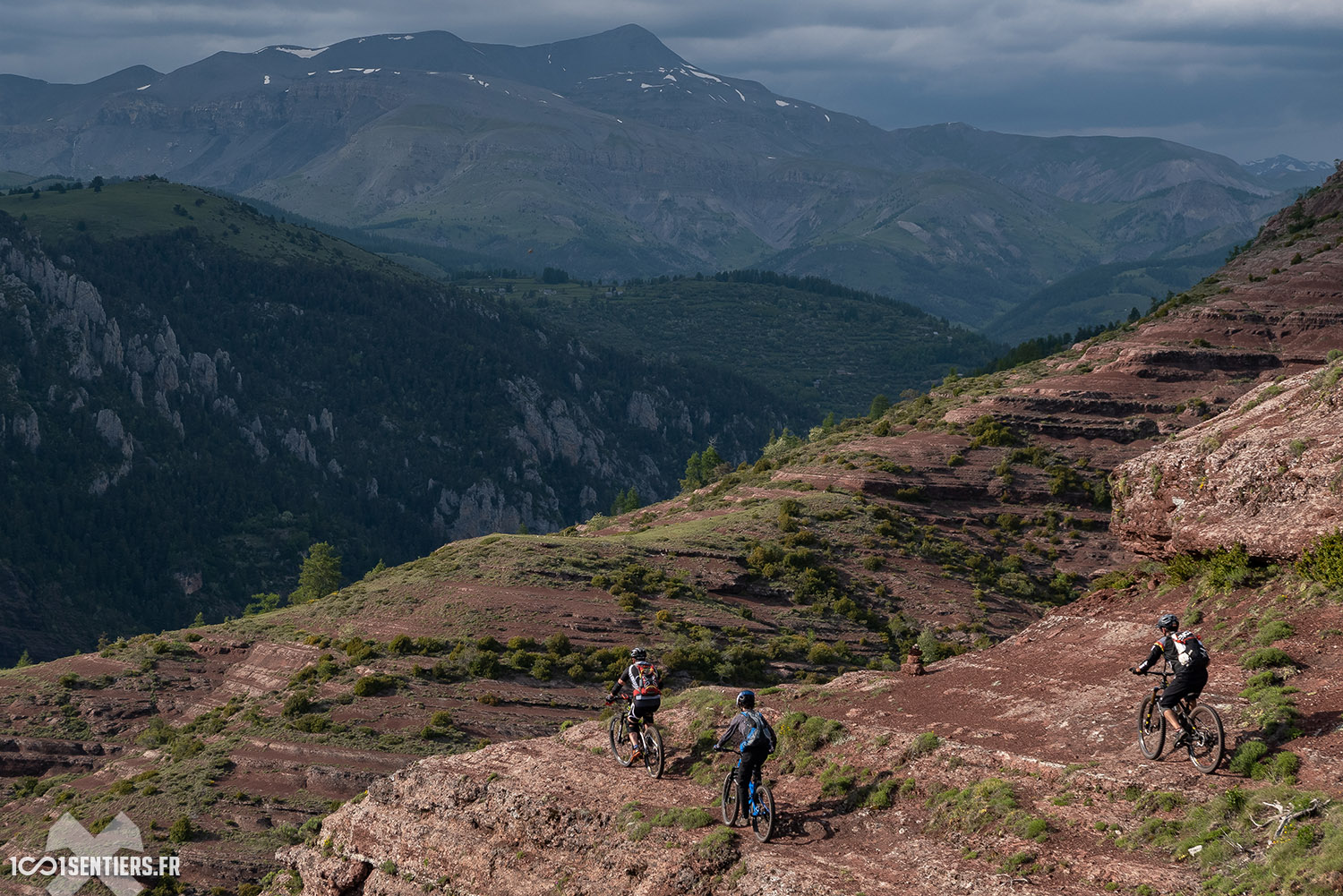 Trip All-Mountain Crazy 06
Prochaine session en 2022 (sauf pour les groupes à la carte, contactez-moi), date du trip 2022 annoncée à l'automne 2021, mais vous pouvez déjà vous pré-inscrire ci-dessous, vous serez prévenu en avant-première !
Next session in 2022 (excepted private demands, contact me), date of the Trip 2022 released at the autumn 2021, but you can already sign-up bellow, you will be notified first!
• Date : Printemps 2022 (Spring 2022), date annoncée à l'automne 2021 (date released Autumn 2021)
• Programme (FR) : Trip all-mountain de 4 jours / 3 nuits, tout-compris, encadré par Greg Germain, sur les spots les plus fous des Alpes-Maritimes. Au menu : 4 randos magistrales en 4 jours dans 4 vallées différentes, déplacements de spot en spot avec le van 1001sentiers.
- Jour 1 : Terres grises
- Jour 2 : Roches rouges
- Jour 3 : Sentiers alpins & Séries d'épingles épiques
- Jour 4 : Dalles de gré & Chemins rocailleux
• Program (ENG) : All-mountain Trip of 4 days/3 nights, all-inclusive, guided by Greg Germain, on the craziest spots of the Maritime Alps. On the menu: 4 amazing rides in 4 days in 4 different valleys, moving from spot to spot with the van 1001sentiers.
- Day 1: Grey earth
- Day 2: Red rocks
- Day 3: Alpine trails & Epic switchbacks series
- Day 4: Sandstone slabs & Rocky trails
• Inscription (sign-up) : remplir formulaire ci-dessous (fill the form bellow)
Trips privés (Groupes)
Vous êtes un groupe constitué... On vous organise un trip à la carte !
You are a band of friends... Let us organise a private trip for your group!
→ Contact Greg
INFOS
• Prix incluant (Price including)* : 4 jours de ride, 3 nuitées, pension complète hébergement+repas, encadrement, transferts, photos (4 riding days, 3 nights, full-board hotels+meals, guiding, transfers, photos)
• Inscription (sign-up) : ci-dessous (bellow)
• Infos pratiques & modalités de paiement (practical informations & terms of payment) : communiqué par email aux participants (sent by email to participants)
* Réduction -5% pour les membres du Club 1001 (Discount -5% for members of the Club 1001)
Inscription (Sign-up)
Remplissez le formulaire ci-dessous. Vous recevrez les informations par email.
Fill the form bellow. You will receive informations by email.
Les informations recueillies sur ce formulaire sont exclusivement réservées au fonctionnement interne de 1001sentiers et à la communication entre 1001sentiers et vous. 1001sentiers s'engage à garder strictement secrètes vos informations personnelles et à ne les communiquer à aucun tiers. En remplissant ce formulaire, vous autorisez 1001sentiers à vous contacter par email et à vous ajouter à sa newsletter. Conformément aux lois « Informatique & Liberté » et « RGPD », vous pouvez exercer vos droits d'accès aux données, de rectification ou d'opposition en nous contactant par email.
The informations collected on this form are exclusively used for the internal functioning of 1001sentiers and for the communication between 1001sentiers and you. 1001sentiers certifies to keep secret your personal informations and not to share them with anyone. By filling this form, you agree 1001sentiers to send you emails and to add you to its newsletter. In accordance with the laws "Informatique & Liberté" and "RGPD", you can exercise your rights of access to data, rectification or opposition by contacting us by email.