20 ans de passion au service du VTT dans les Alpes-Maritimes

  Plus qu'un nombre, 1001sentiers, c'est une réalité dans les Alpes-Maritimes : près de 10.000 km de chemins entre les montagnes et la mer, une variété de spots, de terrains et de décors unique au monde, un climat privilégié pour rouler toute l'année dans des conditions optimales, et une scène VTT très active depuis plus de 30 ans avec de nombreux champions illustres, des courses renommées et une grosse communauté de riders.
Mais jusqu'au milieu des années 2000, tout ceci était encore très confidentiel : peu de vététistes hors du 06 avaient connaissance de ce terrain de jeu exceptionnel, on partait rouler avec une carte sans savoir où on allait et à quelle heure on reviendrait, les événements et pilotes locaux n'étaient pas médiatisés à leur juste valeur, les chronos des courses se faisaient à la main, et il était difficile de trouver des infos sur le web, Internet commençait à peine à se développer et les réseaux sociaux n'existaient pas… 
A cette époque, Greg Germain était encore un jeune vététiste en moule-bite qui participait depuis des années à toutes les courses de cross-country régionales. A 19 ans, ayant sillonné le Mercantour depuis sa jeunesse et réalisant avec frustration que ce territoire fabuleux avait bien mieux à offrir que de vulgaires boucles autour des stades de foot, il achète son premier tout-suspendu, se met à rouler en montagne, se lance sur la Transvésubienne et participe aux premiers rallyes enduro. Une révélation ! Il claque donc la porte de son team et crée 1001sentiers.fr en 2005.
20 years of passion dedicated to MTB in the Maritime Alps
  1001sentiers means 1001 trails... and that's an euphemism! More than a number, 1001sentiers is a reality in the Maritime Alps: nearly 10,000 km of trails between mountains and Sea, an amazing variety of spots, terrains and scenery quite unique all over the world, a fantastic climate for riding all year long with perfect conditions, and a very active MTB scene since 3 decades with many legendary champions, renowned races and huge community of mountain bikers.
But until the mid-2000s, all this was still very confidential: just a few mountain bikers outside of the area were aware of the existence of is exceptional playground, we were still using hiking maps for biking without really knowing where you went and when you would be back, the local events and riders were not promoted at their fair value, on races the timing was done by hand, and globally it was quite difficult to find informations online, the Internet was just starting to grow and social networks did not exist yet...
At that time, Greg Germain is still a young mountain biker wearing lycra and participating for years in all the regional cross-country races. Used to visit the Mercantour mountains since his young age and realizing with frustration that this fabulous territory had much more to offer than boring loops around football stadiums, at 19 he buys his first full-suspended bike, begin to ride on proper mountain trails, races for his first time the mythic Transvésubienne and take part in the first enduro rallies. A revelation! So he quittes his team and creates 1001sentiers.fr in 2005.
Dès 2005, 1001sentiers a œuvré activement pour valoriser, dynamiser, moderniser et fédérer le VTT dans les Alpes-Maritimes : 
Créer et alimenter un site internet riche et vivant centralisant toutes les infos sur le VTT dans le 06, diffuser toutes les actualités de la scène VTT azuréenne, poster des milliers d'articles, photos et posts pour partager notre passion, inspirer les riders, raconter nos sorties, relater les courses, promouvoir les initiatives locales, sublimer les spots locaux et permettre aux pratiquants de rouler et se rencontrer.
Organiser un championnat d'enduro révolutionnaire dès 2007, le 1001 Enduro Tour, tout premier championnat d'enduro départemental de l'histoire, puis le 1001 Enduro Kid Tour à partir de 2013, tout premier championnat d'enduro réservé aux jeunes. Cette aventure, la synergie créée avec les organisateurs locaux, partenaires et pilotes, et la centaine d'épreuves qui ont été organisées pendant 12 seasons ont considérablement participé à l'essor et au rayonnement de cette discipline à l'échelle locale, au développement des courses, mais aussi au-delà des frontières azuréennes en inspirant de nombreux championnats similaires dans d'autres régions, et permis à des milliers de pilotes maralpins de s'éclater et aux meilleurs d'entre-eux de forger leur talent et expérience avant d'exploser sur les Enduro World Series.
Réaliser des topo-guides VTT édités par Vtopo pour permettre à tous les riders, locaux ou touristes, de randonner sur nos merveilleux chemins.
Ecrire des beaux livres pour raconter la formidable épopée du VTT azuréen.
Produire et participer à des ambitieux projets vidéos VTT tournés sur nos terres.
Créer de nombreux goodies pour les fans et une gamme de maillots VTT techniques et éthiques développés dans le 06 en partenariat avec Relief-Equipements.
Et au fil des années proposer de plus en plus de sorties guidées, stages, trips et sessions navettes pour partager le meilleur de notre coin de paradis avec les riders locaux et du monde entier...
Depuis une quinzaine d'années, cette énergie, cette passion et cette connaissance inégalée des sentiers maralpins, Greg Germain la dédie aux riders en quête de singles magiques et d'aventures et stages VTT mémorables… Guide VTT Brevet d'Etat depuis 2008 et tour-operator depuis 2012, Greg se consacre désormais pleinement à son métier de guide et 1001sentiers est devenu au fil des ans une agence VTT renommée dans le monde entier qui propose des aventures guidées magistrales pour vous évader en montagne, des stages pilotage pour vous perfectionner, des trips inoubliables aux quatre coins des Alpes du Sud et de la Riviera, des sessions navettes pour vous gaver de singles, et bien d'autres sorties pour assouvir votre passion et soif de sentiers et partager des purs moments de ride et de vie !
Since 2005, 1001sentiers hardly work to promote, push, modernize and unify the mountain biking scene in the Maritime Alps:
Building and feeding a big and lively MTB website centralizing all the informations about mountain biking in the Maritime Alps, broadcasting all the news from the local MTB scene, publishing thousands of articles, photos and posts to share our passion, inspiring riders, sharing our rides, reporting events, promoting local initiatives, sublimating our spots and helping riders to ride and meet.
Organizing a revolutionary enduro championship from 2007, the 1001 Enduro Tour, the very first departmental enduro championship in the history of mountain biking, then the 1001 Enduro Kid Tour from 2013, the very first enduro championship dedicated to kids. This adventure, the synergy created with the local organizers, partners and riders, and the hundred events that have been organized during 12 seasons have considerably contributed to push the development of this discipline locally by helping organizers to make their races better and greater, but also beyond the borders of the French Riviera by inspiring many similar championships in other regions, and allowing thousands of rider from this area to have fun and for best of them to forge their talent and experience before exploding on the Enduro World Series.
Writing mountain bike guidebooks published by Vtopo to let every mountain bikers, locals or tourists, to go biking on our wonderful trails.
Writing art books to tell the formidable odyssey of mountain biking in the Maritime Alps.

Producing and participating to ambitious MTB videos projects filmed in our land.
Creating many goodies for fans as well as a technical and ethic range of MTB jerseys developed in the 06 in partnership with Relief-Equipements.
And years after years proposing more and more guided tours, course, trips and shuttles to share the best of our paradise playground with local riders as well as riders from all over the world...
For more than a decade, Greg Germain dedicates all this energy, passion and unequaled knowledge of the Maritime Alps' trails network to riders who are looking for magical singlestracks and memorable MTB adventures and courses… Certified mountain bike guide since 2008 and tour-operator since 2012, Greg is now fully into his guiding activity and 1001sentiers has become over the years a worldwide renowned MTB agency which organize for you a bunch of amazing guided MTB tours to delight you in wild mountains, coaching sessions and skills workshops to improve your skills, awesome multi-days trips on the best spots of the Southern Alps and Riviera, shuttle days to provide your trails orgy, and many other tours to satisfy your passion and thirst for trails, and to share unforgettable moments of riding and life!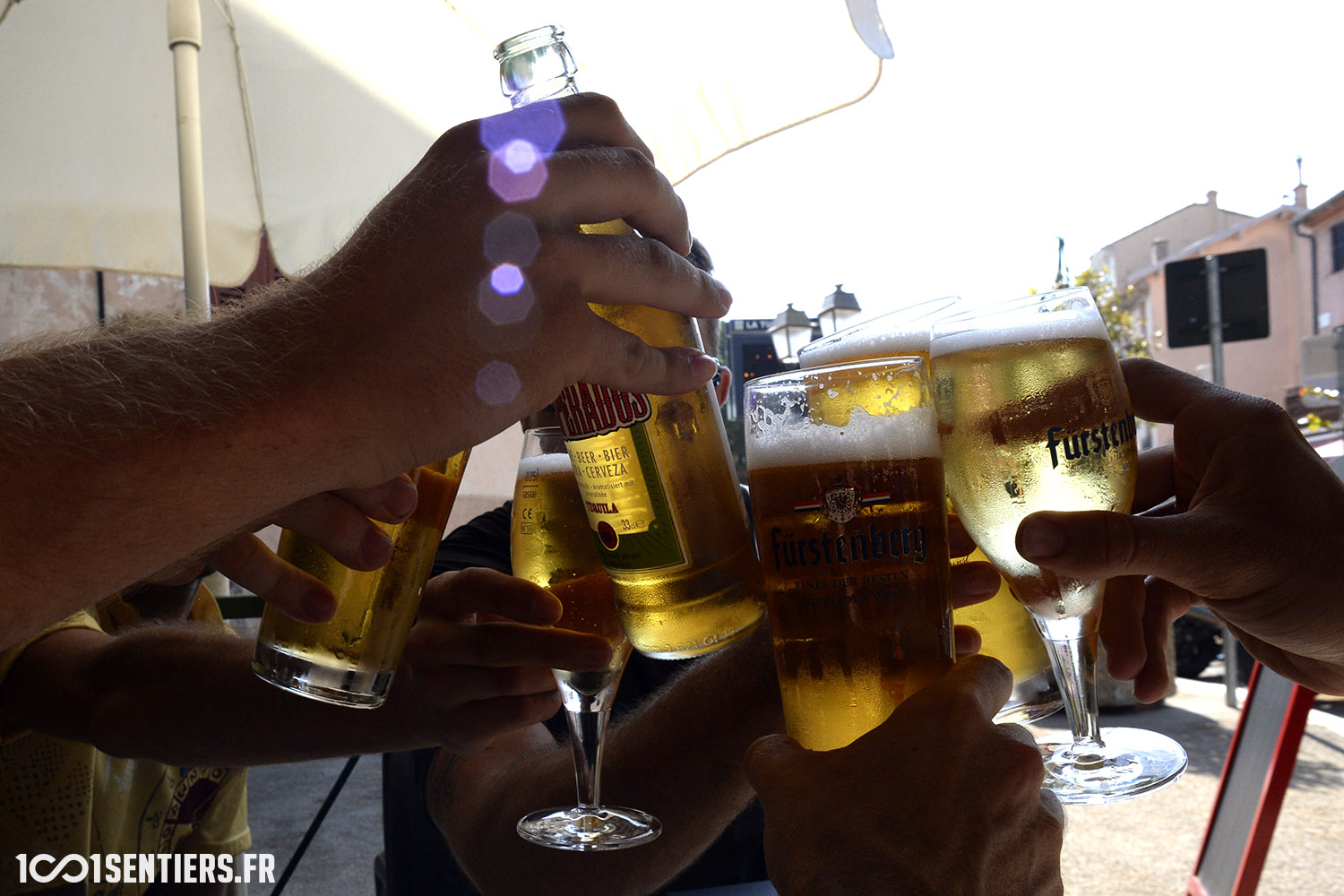 En 2005 déjà, c'est la passion qui a impulsé la création de 1001sentiers. Depuis bientôt 20 ans, c'est avec passion que Greg Germain s'investit dans tous ses projets autour de 1001sentiers. Et aujourd'hui plus que jamais, c'est avec une passion sans borne pour le VTT, la nature et son pays, qu'il vous emmène rider sur ses mille et un sentiers !
Already in 2005, it was passion that drove the creation of 1001sentiers. For almost 20 years, Greg Germain is passionately involved in all its projects with 1001sentiers. And today more than ever, that's with a boundless passion for mountain biking, nature and his territory, that he guides you on his thousand and one trails!