Randos All-mountain magistrales dans l'intimité des sentiers
Envie de vous immerger en montagne ?
Envie de découvrir les joyaux des Alpes-Maritimes ?
Envie de rouler des chemins magiques et méconnus?
Envie de mieux comprendre le patrimoine montagnard ?
Pas peur de grimper ni de porter votre vélo ?
...Les Aventures Alpines 1001sentiers vont vous combler !
Awesome All-mountain Adventures in the intimacy of trails
Wanna dive into the mountains for big MTB adventures?
Wanna discover the jewels of the Maritime Alps?
Wanna ride magical and historical trails?
Wanna meet the treasures of our mountain patrimonial?
Not afraid of hard climbs and hike-a-bike?
...The Alpine Adventures 1001sentiers will make you dreaming!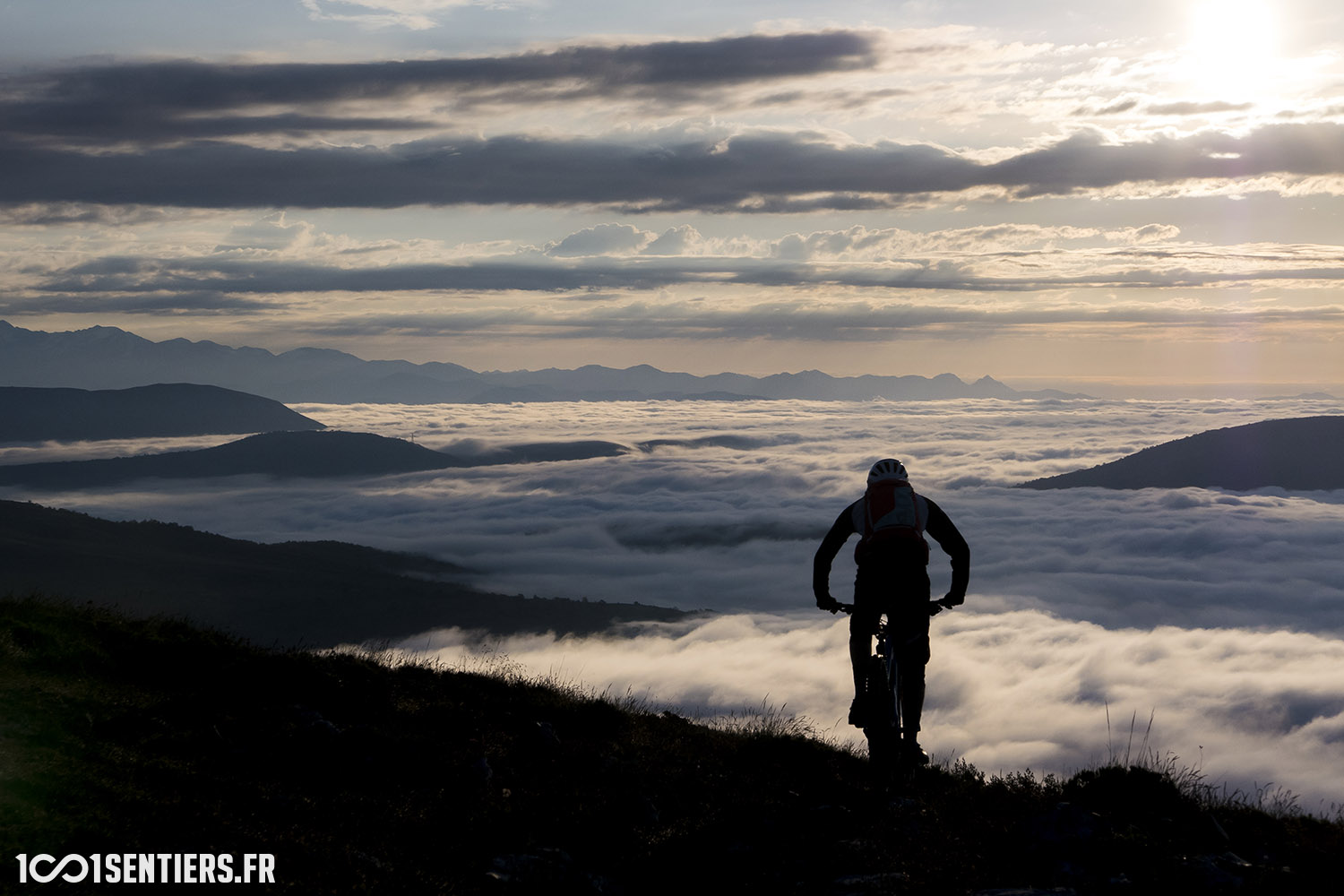 Prochaines Aventures (Coming Adventures)
• 17 octobre 2021 (October 17, 2021) : Aventure Alpine Rainbow Trails
→ Informations & Inscription (Info & Sign-up) : ci-dessous (bellow)
A la carte
Aventures à la carte, autres dates, autres destinations, groupes ou individuels...
Private demands, other dates, other destinations, groups or single...
→ Contact Greg

Aventure Alpine Rainbow Trails

• Date : 17 octobre 2021 (October 17, 2021)
• Spot : Portes du Mercantour, Alpes-Maritimes
• Programme (FR) : L'automne est la saison des couleurs, alors pour l'occasion 1001sentiers vous propose une Aventure All-mountain exceptionnelle le 17 octobre sur des sentiers de montagne jaunes, rouges, verts et gris ! Après une navette matinale pour vous offrir deux fois plus de descente que de montée, Greg Germain vous embarque sur une rando VTT alpine haute en couleurs, au cours de laquelle vous allez traverser des immenses alpages dorés, vous régaler dans les impressionnantes terres rouges, dévaler des goulets de terres grises, filer dans des forêts vertes, et admirer tout du long les couleurs de l'automne. Un mix de couleurs et de terrains magiques regroupés sur un itinéraire montagnard grandiose qui va vous procurer énormément de plaisir et vous en mettre plein la vue.
• Program (ENG) : Autumn is the season of colors, so 1001sentiers proposes an awesome All-mountain Adventure on October 17th, riding green-red-grey trails! After a morning shuttle to provide you two times more descending than climbing, Greg Germain is taking you on a colorful alpine mountain bike ride, where you will cross stunning golden meadows, play on the stunning red-earth, dive into grey earth gullies, ride green forests, and admire all along the autumn colors. A magical mix of colors and terrains linked on a wonderful mountain route which will provide lots of fun and great sceneries.
• Chiffres (Numbers) : ≈ 35 km / 1000 m+ / 2000 m-
• Inscription (Sign-up) : remplir formulaire ci-dessous (fill the form bellow)
INFOS
• Prix incluant (price including)* : encadrement, photos, 1 navette (guiding, photos, 1 shuttle)
• Inscription (sign-up) : ci-dessous (bellow)
• Infos pratiques & modalités de paiement (practical informations & terms of payment) : communiqué par email aux participants (sent by email to participants)
* Réduction -10% pour les membres du Club 1001 (Discount -10% for members of the Club 1001)
Inscription (Sign-up)
Remplissez le formulaire ci-dessous. Vous recevrez les informations par email.
Fill the form bellow. You will receive informations by email.
Les informations recueillies sur ce formulaire sont exclusivement réservées au fonctionnement interne de 1001sentiers et à la communication entre 1001sentiers et vous. 1001sentiers s'engage à garder strictement secrètes vos informations personnelles et à ne les communiquer à aucun tiers. En remplissant ce formulaire, vous autorisez 1001sentiers à vous contacter par email et à vous ajouter à sa newsletter. Conformément aux lois « Informatique & Liberté » et « RGPD », vous pouvez exercer vos droits d'accès aux données, de rectification ou d'opposition en nous contactant par email.
The informations collected on this form are exclusively used for the internal functioning of 1001sentiers and for the communication between 1001sentiers and you. 1001sentiers certifies to keep secret your personal informations and not to share them with anyone. By filling this form, you agree 1001sentiers to send you emails and to add you to its newsletter. In accordance with the laws "Informatique & Liberté" and "RGPD", you can exercise your rights of access to data, rectification or opposition by contacting us by email.