Ride & Perfectionnement technique
Pour vous faire progresser et élargir votre terrain de jeu, 1001sentiers propose des stages pilotage de 4h dans les Bois du Rouret, avec chaque fois un cocktail de sentiers fabuleux, des ateliers pilotage variés et des conseils techniques à foison pour prendre du plaisir & vous perfectionner en descente, montée, sauts, franchissements, etc...
Riding & Skills workshops
In order to make you a better skilled rider and enlarge your playground, 1001sentiers is organizing regularly MTB courses at Le Rouret, with a delicious cocktail of trails, varied workshops and  tons of technical advices to give you fun and increase all your skills (downhill, climbing, jumps and all kind of obstacles...).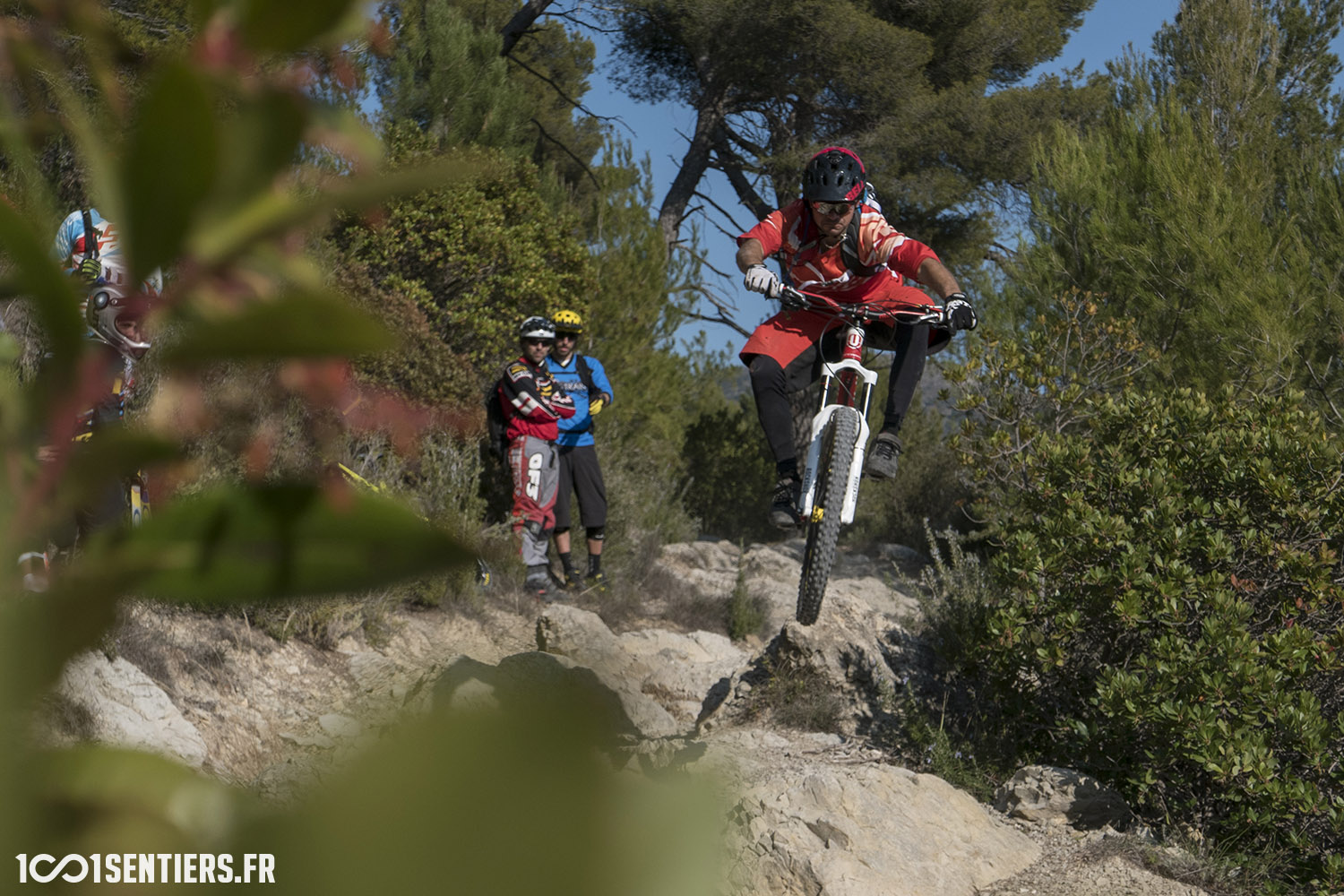 Stages pilotage 2019
• Date Session #1 : 26 janvier 2019
• Date Session #2 : 9 novembre 2019
• Spot : Le Rouret, Alpes-Maritimes
• Programme (FR) : Greg Germain vous embarque sur les sentiers géniaux du Bois du Rouret pour 4h de ride, d'ateliers pilotage et de conseils techniques personnalisés pour vous amuser et vous perfectionner dans les descentes cassantes, sauts, lecture de trajectoires, enchainements haute-vitesse, virages, franchissements, montées techniques, dévers, etc.
• Program (ENG) : Greg Germain is taking you on the superb trails of the Rouret forest, for 4 hours of nice riding, skills workshops and personalized tips in order to give you fun and better skills in tech descents, jumps, high-speed sections, trajectories research, turns, natural stairs, technical climbs, etc.
• Inscription (sign-up) : remplir formulaire ci-dessous (fill the form bellow)

INFO
• Inscription (sign-up) : ci-dessous (bellow)
• Infos pratiques & paiement (practical informations & payment) : communiqué par email aux participants (sent by email to participants)
Inscription | Sign-up
Remplissez le formulaire ci-dessous. Vous recevrez les informations par email.
Fill the form bellow. You will receive informations by email.