Ride & Perfectionnement technique
Pour vous faire progresser et vous permettre de prendre encore plus de plaisir sur les chemins, 1001sentiers organise des stages pilotage VTT sur les spots les plus adaptés des Alpes-Maritimes. Au programme : du bon ride, des singles variés, des ateliers pilotage en tous genres et des conseils techniques personnalisés à foison !
Riding & Skills workshops
In order to make you a better skilled rider and have more fun on the trails, 1001sentiers is organizing MTB courses on the best spots of the Maritime Alps. On the menu: great riding on great trails, lot of workshops and personalized technical tips!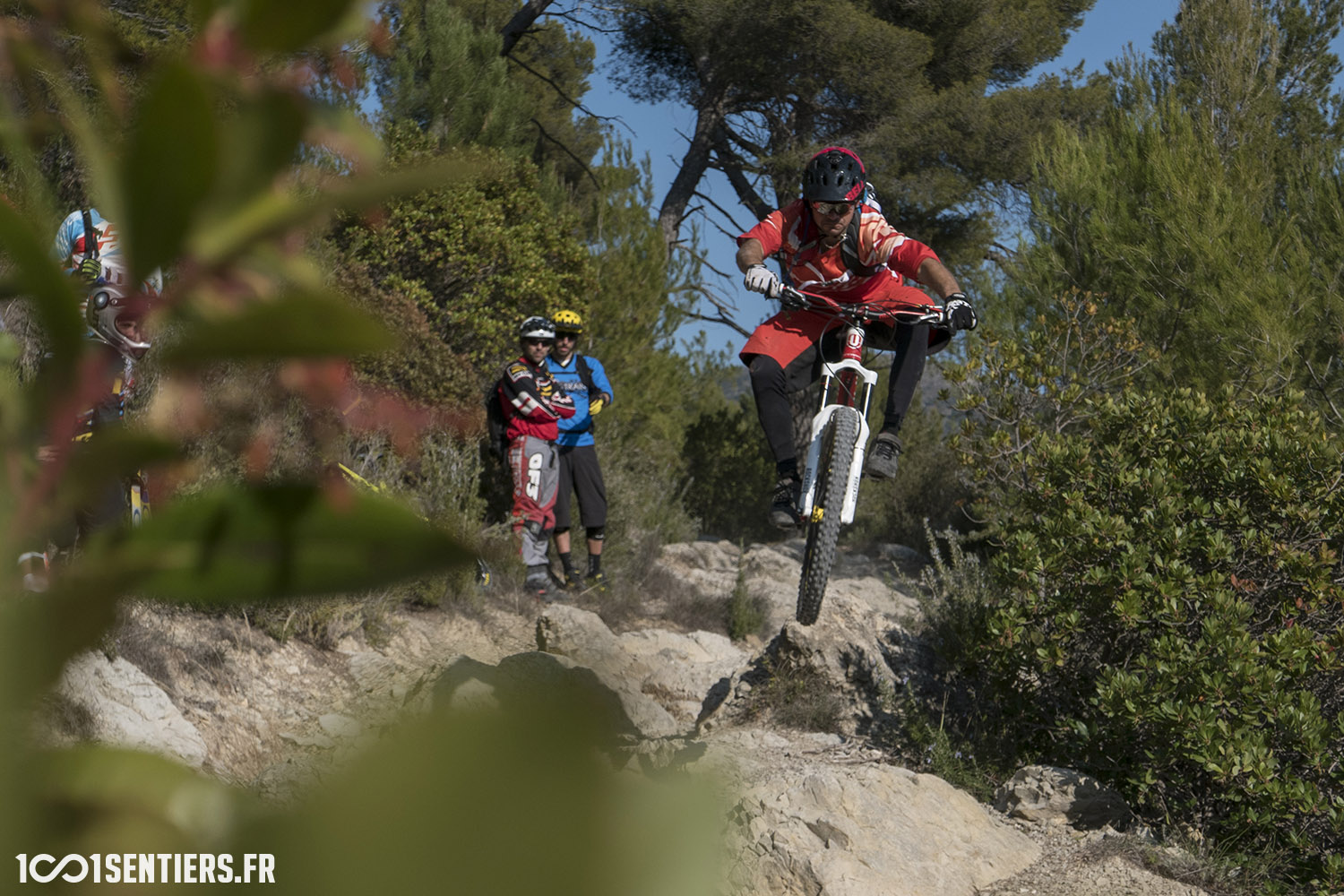 Prochains stages (Coming courses)
• 11 novembre 2021 (November 11, 2021) : Le Rouret
→ Informations & Inscription (Info & Sign-up) : ci-dessous (bellow)
A la carte
Stages à la carte, solo ou groupes, autres dates, autres spots...
Private courses, individual or groups, other dates, other spots...
→ Contact Greg

Stage Pilotage - Le Rouret - 11 novembre
• Date : 11 novembre 2021 (November 11, 2021)
• Spot : Le Rouret, Alpes-Maritimes
• Timing : 8h-12h
• Programme (FR) : A l'approche de l'hiver, 1001sentiers vous accueille dans son fief du Rouret le 11 novembre pour 4h de ride et de perfectionnement sur une incroyable terrain de jeu, particulièrement riche et varié. L'occasion d'apprendre de nouvelles techniques, d'optimiser vos trajectoires et votre position et de progresser dans les virages, franchissements, sauts et pentes raides... Une matinée fun et intense !
• Program (ENG) : Before the winter lands, 1001sentiers is welcoming you on is home spot of Le Rouret on November 11th for 4 hours of riding and workshops on a particularly rich and varied playground. Perfect opportunity to learn new skills, optimize your trajectories and position, and boost your riding abilities in turns, tech sections, jumps and steep trails... A funny and intense morning!
• Tarif (Price) : 50 €
• Inscription (Sign-up) : remplir formulaire ci-dessous (fill the form bellow)
INFOS
• Inscription (sign-up) : ci-dessous (bellow)
• Infos pratiques & modalités de paiement (practical informations & terms of payment) : communiqué par email aux participants (sent by email to participants)
* Réduction -10% pour les membres du Club 1001 (Discount -10% for members of the Club 1001)
Inscription (Sign-up)
Remplissez le formulaire ci-dessous. Vous recevrez les informations par email.
Fill the form bellow. You will receive informations by email.
Les informations recueillies sur ce formulaire sont exclusivement réservées au fonctionnement interne de 1001sentiers et à la communication entre 1001sentiers et vous. 1001sentiers s'engage à garder strictement secrètes vos informations personnelles et à ne les communiquer à aucun tiers. En remplissant ce formulaire, vous autorisez 1001sentiers à vous contacter par email et à vous ajouter à sa newsletter. Conformément aux lois « Informatique & Liberté » et « RGPD », vous pouvez exercer vos droits d'accès aux données, de rectification ou d'opposition en nous contactant par email.
The informations collected on this form are exclusively used for the internal functioning of 1001sentiers and for the communication between 1001sentiers and you. 1001sentiers certifies to keep secret your personal informations and not to share them with anyone. By filling this form, you agree 1001sentiers to send you emails and to add you to its newsletter. In accordance with the laws "Informatique & Liberté" and "RGPD", you can exercise your rights of access to data, rectification or opposition by contacting us by email.