Au cœur des aventures 1001sentiers
La mer, les montagnes, le soleil et 6000 km de chemins arc-en-ciel roulables toute l'année... Les Alpes-Maritimes sont un vrai paradis pour les riders ; ensoleillé 300 jours par an et qui s'élève de 0 jusqu'à 3000 m d'altitude. Un terrain de jeu aussi incroyable qu'inépuisable, qui a donné naissance à de nombreux champions du monde et événements de renom, et que 1001sentiers parcourt et exploite avec amour depuis plus de dix ans pour organiser des aventures mémorables. Mais avant d'embarquer sur nos Trips & Stages VTT, laissez-vous imprégner par l'ambiance des lieux et découvrez ce qui vous attend...
The spirit of 1001sentiers' adventures
The sea, the mountains, the sun and 6000km of rainbow trails ridable all the year... The Maritime Alps are an amazing paradise for mountain bikers, sunny 300 days a year and growing from 0 to more than 3000m above the sea level. An incredible and endless playground, which gave birth to many world champions and worldwide famous events, and that 1001sentiers uses with love since more than ten years to organise great all-mountain and enduro adventures. Before joining us on one of our Mountain Bike Tours, let you discover this awesome aera and what awaits you there…
Photos © Greg Germain / 1001sentiers.fr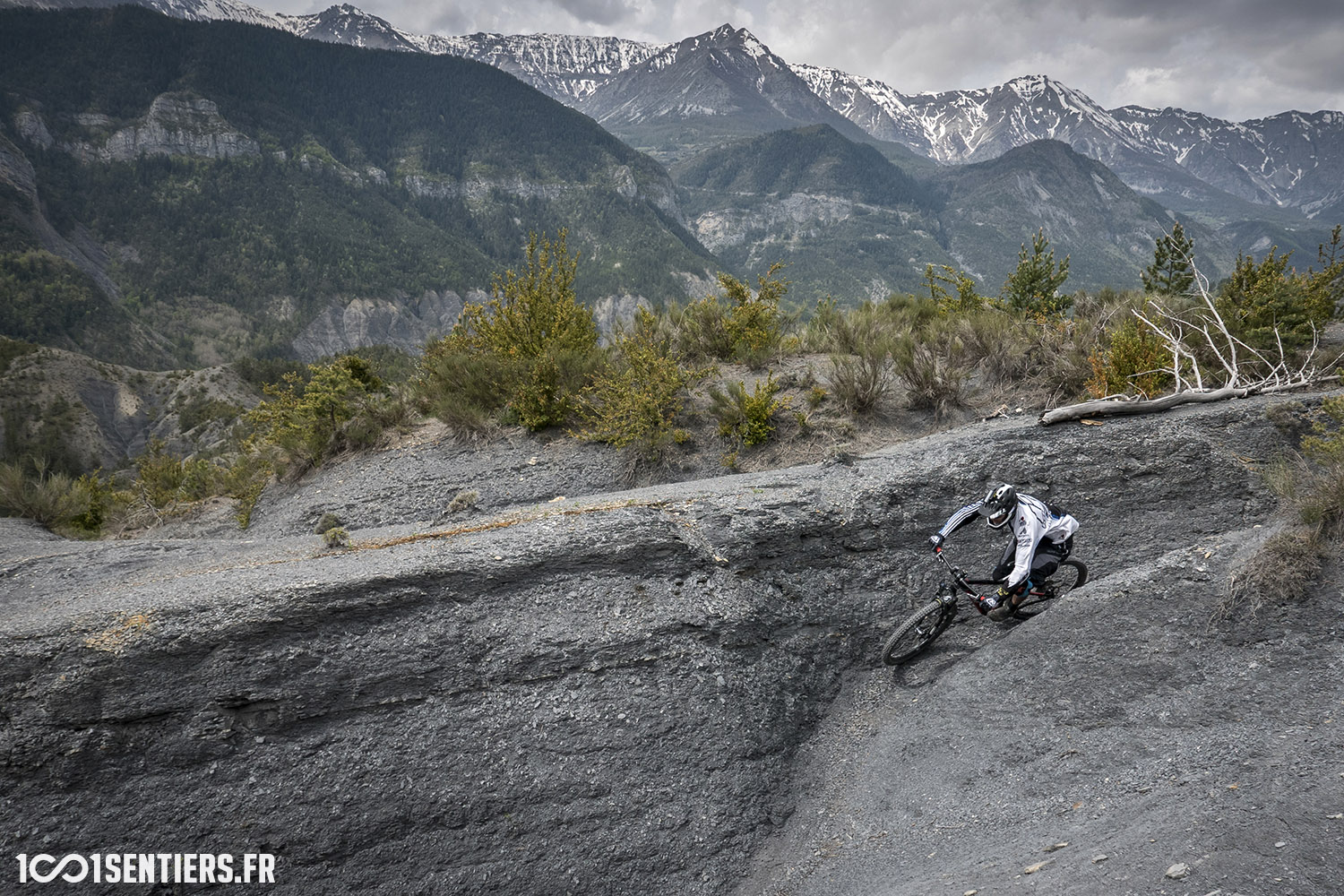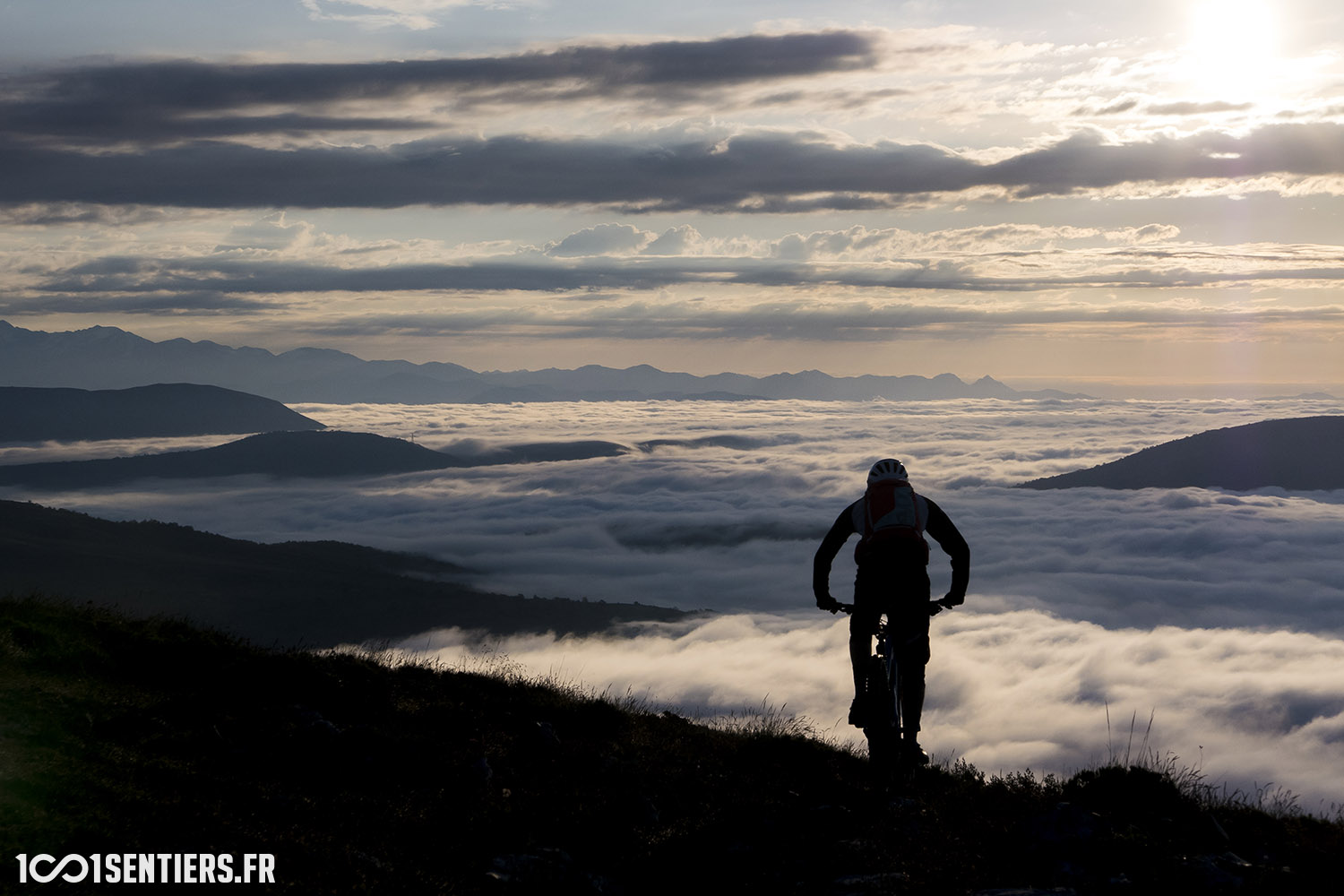 La Terre regorge de spots VTT exceptionnels : Moab, Whistler, la Nouvelle-Zélande, Finale Ligure… Mais aucun de ces spots, aussi mythiques soient-ils, ne dispose de la variété de terrains des Alpes-Maritimes (haute-montagne et pays-côtier, alpages et forêts, terres grises et gorges rouges, bikeparks et chemins naturels...), ni n'est roulable toute l'année. Bienvenue au paradis VTT !
Earth is full of exceptional MTB spots: Moab, Whistler, the New-Zealand, Finale Ligure… But none of these mythical spots has the same variety of terrain as the Maritime Alps (hight mountains and coastal country, alpine fields and forests, grey earth and red canyons, bikeparks and natural trails), nor is ridable all the year long. Welcome to mountain biking paradise!
Des montagnes à perte de vue, plus de 6000 km de sentiers éclatants, du soleil 300 jours par an... Toutes les conditions sont rassemblées dans les Alpes du Sud et sur la Côte d'Azur pour se gaver de pur ride quelle que soit la saison et en prendre plein les yeux sur chaque spot !
Tons of mountains, huge and colorful trails system (more than 6000 km), and sun all the year long... All elements are gathered in the Southern Alps and on the French Riviera to give amazing riding at each season and to fill with wonder at each spot!
Avec de tels terrain de jeu et conditions climatiques, il n'y a pas de limite aux idées et à la passion ! 1001sentiers met à profit ce formidable territoire pour organiser des sessions navettes sur les plus beaux spots des Alpes-Maritimes, des aventures alpines dans les montagnes sauvages du Mercantour, des trips enduro orgiaques entre les Alpes et la mer, des séjours all-mountain épiques jusqu'à 3000 m d'altitude, des stages pilotage en tous genres, et bien plus encore...
With such a playground and perfect weather, there is no limit to ideas and passion! 1001sentiers use this awesome territory to organise shuttling days on the nicest spots of Maritime Alps, alpine adventures in the wild mountains of Mercantour, enduro trips from the Alps to the sea, epic all-mountain tours up to 3000m of altitude, skills workshops, and much more...
En plus du plaisir VTT, les aventures 1001sentiers c'est aussi un patrimoine riche tout au long des chemins, une logistique au top pour profiter à fond, des nuitées en pleine montagne, et des spécialités locales à table...
Our adventures 1001sentiers are not only about mountain biking pleasure... It's also made with rich patrimonial along the trails, great logistics to enjoy the riding in the best conditions, nights lost in mountains, and local specialities on the table...
Et autant vous dire que même en plein hiver, les conditions de ride sont magiques. La preuve avec la photo ci-dessous, capturée en plein février. Bref, n'attendez pas l'été pour venir !
And we can ensure you that riding conditions are magical also in the winter, as you can see on the photo bellow, taken in February. Thus, don't wait to the summer to come!
Alléché ? Préparez votre bike et rejoignez-nous sur nos prochains Stages & Séjours VTT : Trips enduro, Aventures Alpines, Riding Camps, Sessions Enduro Navettes, Trips 3000, Vouilloz Ride Sessions, Rides E-Bikes, Recos Transvésubienne, Stages pilotage, Stages Enduro Kid, Ateliers de Sophia, etc...
Excited? Prepare your bike and join our next Mountain Bike Trips & Courses : Trips Enduro, Alpine Adventures, Enduro Shuttles, Trips 3000, Vouilloz Ride Sessions, E-Bike Rides, Recce Transvesubienne, Courses, Enduro Kid Courses, Workshops at Sophia Antipolis, etc...
Des grandes figures nous épaulent parfois : Nicolas Vouilloz (10x champion du monde) & Tito Tomasi (aventurier VTT professionnel).
Some famous MTB figures on our adventures: Nicolas Vouilloz (10 times world champion) & Tito Tomasi (professional adventurer).