4 jours d'orgie entre la montagne à la mer
Val d'Allos, Portes du Mercantour, Vallée du Cians, Vallée de la Tinée, Valdeblore, Vésubie, Collines niçoises... 7 vallées et un trip de 4 jours concocté par 1001sentiers pour relier la montagne à la mer, enfiler les plus beaux single-tracks des Alpes du Sud, s'amuser dans les alpages bucoliques et forêts merveilleuses du massif du Mercantour, s'éclater sur "nos" sentiers favoris, dévaler des chemins célèbres (à l'instar des Terres grises) mais aussi quelques traces secrètes qui valent tout autant le détour, faire le plein de dénivelé négatif (environ 3000m de D- par jour) grâce aux navettes, mais aussi savourer des spécialités culinaires locales, des paysages grandioses et un patrimoine riche, le tout immergé en pleine montagne pendant 4 jours... C'est tout ça le Trip Enduro Mercantour XXL ! Et c'est justement ce que l'on a fait du 28 au 31 juillet derniers à l'occasion de l'édition 2016 de cette aventure orgasmique. Voyez plutôt...
4 days shredding from mountain to sea
Val d'Allos, Portes du Mercantour, Cians valley, Tinée valley, Valdeblore, Vésubie valley, Nice's backcountry hills... 7 valleys and a 4-days-trip cooked by 1001sentiers to let you ride the very best trails of Southern French Alps between from mountain to sea, to play in lovely prairies and wonderful forests of the Mercantour, to enjoy "our" favorite trails, to taste famous spots (as grey earth) but also secret ones, to make huge vertical drops (approx. 3000m- per day) thanks to shuttle, but also to savor local specialities, awesome landscapes and rich patrimonial, for a complete and unforgettable 4-days-trip into the wild... All this are making the Trip Enduro Mercantour XXL ! And that's exactly what we did from 28th to 31st of July, during the edition 2016 of this epic adventure. As you can see bellow...

Photos © Greg Germain / 1001sentiers.fr
Les fameux chemins multicolores des Alpes-Maritimes
The famous rainbow trails of Maritime Alps
Gavade de Terres grises pour débuter le jour deux
Orgy of grey earth for Day two beginning
La fine équipe, venue des quatre coins de France et d'Amérique pour rouler sur les plus beaux sentiers des Alpes-Maritimes avec 1001sentiers
The crew, coming from four corners of France and America to ride the best Maritime Alps' trails with 1001sentiers
Au départ d'une descente de 1400m de dénivelé négatif face aux sommets du Mercantour... L'un des grands moments de ce Trip Enduro Mercantour XXL !
At the start of a 1400m- descent facing the Mercantour summits... One of the iconic moments of this Trip Enduro Mercantour XXL!
 
En plus de servir sur un plateau les plus beaux single-tracks des Alpes du Sud, ce trip se déroule au milieu de paysages tous plus beaux les uns que les autres. Un voyage au cœur du Mercantour !
More than providing the best trails of Southern Alps, this trip takes place at the heart of the Mercantour massif, with all its amazing landscapes!
Sans oublier bien sûr les célèbres épingles des Alpes-Maritimes !
Including the famous switchbacks of Maritime Alps!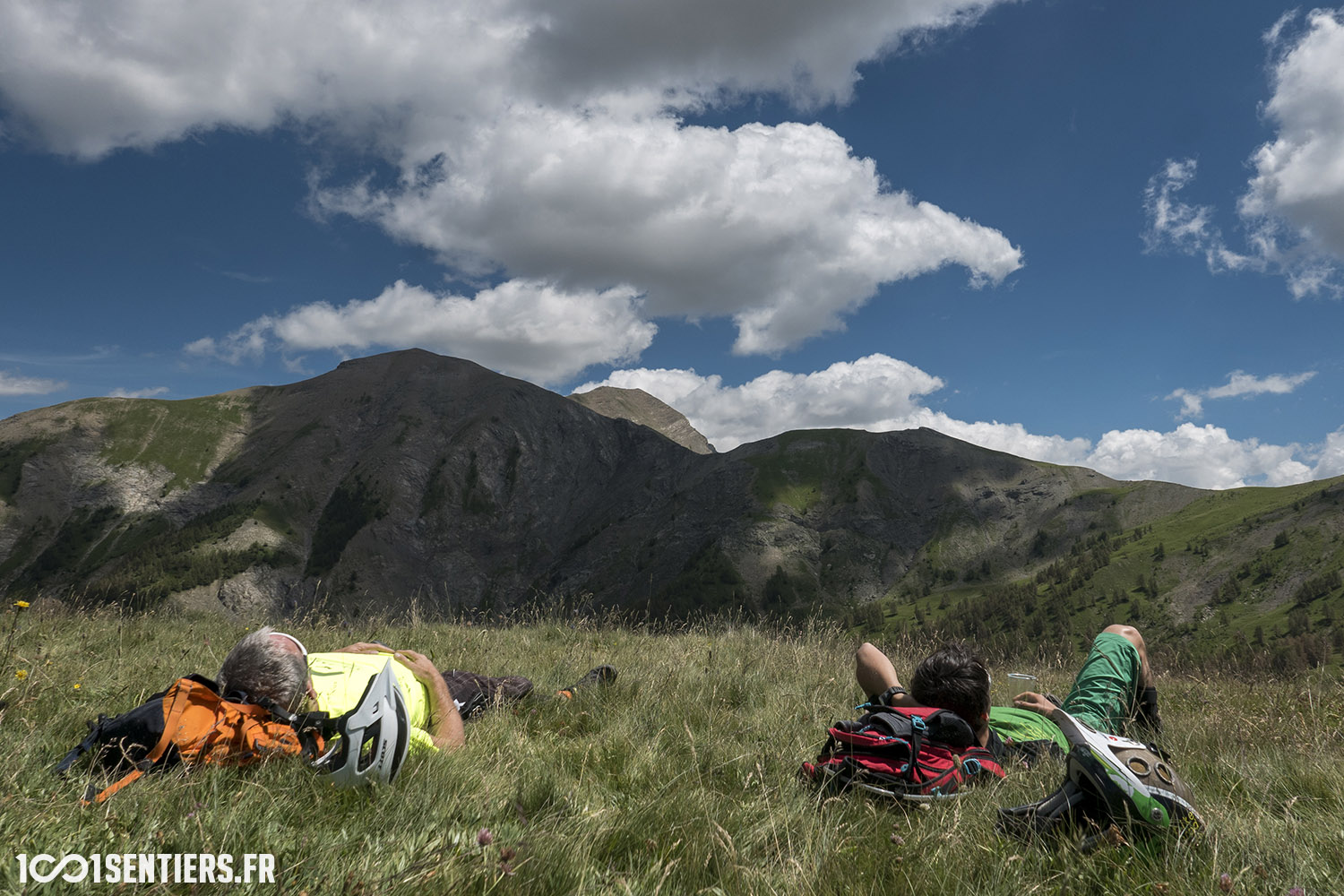 "Après l'effort le réconfort", c'est écrit sur nos bouteilles de génépi maison, et c'est le cas tout au long des trips 1001sentiers : picnics champêtres au milieu des alpages, rafraichissements en terrasses, bonne bouffe, dégustation de produits locaux, hotels de caractère en pleine montagne...
"Après l'effort le réconfort", that's written on our home-made genepi bottles (alpine liquor) and that means we have good time not only on the bike during all the adventures 1001sentiers: picnics on prairies, refreshing on terrasses, good meals, local specialities tasting, mountain hotels...
4 à 6 navettes par jour, pour faire un max de descentes
4 to 6 shuttles per day to let us ride maximum trails
Jour 3, ça commence à sentir la Provence... mais il y a encore un bon paquet de montagnes à déguster avant de rallier le littoral.
Day 3, starting to smell like Provence... but still many mountains to taste before reaching the seaside.
Et puis non, finalement on reprendra une petite dose d'altitude jusqu'au dernier jour
Finally not, we take another piece on altitude until last day's morning

Et même de retour près de la côte, on a encore quelques chemins incroyables à dégainer !
No matter we finally reach the coastal country, we still have some amazing trails for you!
Des moments de ride inoubliables
Unforgettable riding moments
Vivement la prochaine aventure 1001sentiers...  Looking forward the next adventure 1001sentiers!