Entre riding et racing, 4 jours d'enduro multicolore dans les Alpes-Maritimes !
En préambule de l'Enduro World Series de Valberg, on a décidé chez 1001sentiers de proposer quelques aventures spéciales cette année, à commencer par l'Enduro Riding Camp Portes du Mercantour. Sur le papier, l'idée c'était de mixer 3 jours de ride pur plaisir sur les plus beaux sentiers des Portes du Mercantour, histoire de découvrir - navettes et guide à l'appui - le terrain de jeu fabuleux de la future EWS, puis de migrer à l'Escarène le quatrième jour pour goûter à l'enduro sauce locale à l'occasion de la troisième épreuve de l'Urge 1001 Enduro Tour... Et dans les faits, ça donne un trip magistral de 4 jours 3/4 riding 1/4 racing, 4 nuitées en montagne dans un gîte rien que pour nous, des repas gourmands gavés de spécialités locales, et surtout une vingtaine de descentes toutes plus belles les unes que les autres, cumulant plus de 10.000 m de dénivelé négatifs et recouvertes de tous les types de terrains imaginables ! Bref, la gavade pour commencer en beauté la saison des Trips Enduro 1001sentiers ! Voyez plutôt...
Mixing riding and racing, 4 colorful enduro days through Maritime Alps!
In preamble of the Enduro World Series of Valberg, we decided to propose some special adventures this year, starting with our Enduro Riding Camps Portes du Mercantour. On the paper, the idea was to combine 3 days riding for fun the nicest Portes du Mercantour's trails, in order to discover - with shuttling and guiding - this wonderful playground, and then to move to l'Escarène on 4th day in order to taste the local way of racing by taking part to the Urge 1001 Enduro Tour's 3rd round... And in facts, it gives an amazing 4 days-trip 3/4 riding 1/4 racing, 4 nights in a mountain lodge reserved for us, gourmet meals full of local specialities, and no less than 20 lovely descents cumulating 10.000m of vertical drop and covered with all kinds of terrains! Well, just perfect to start in beauty the Enduro Trips 1001sentiers season! As you can see...

Photos © Greg Germain / 1001sentiers.fr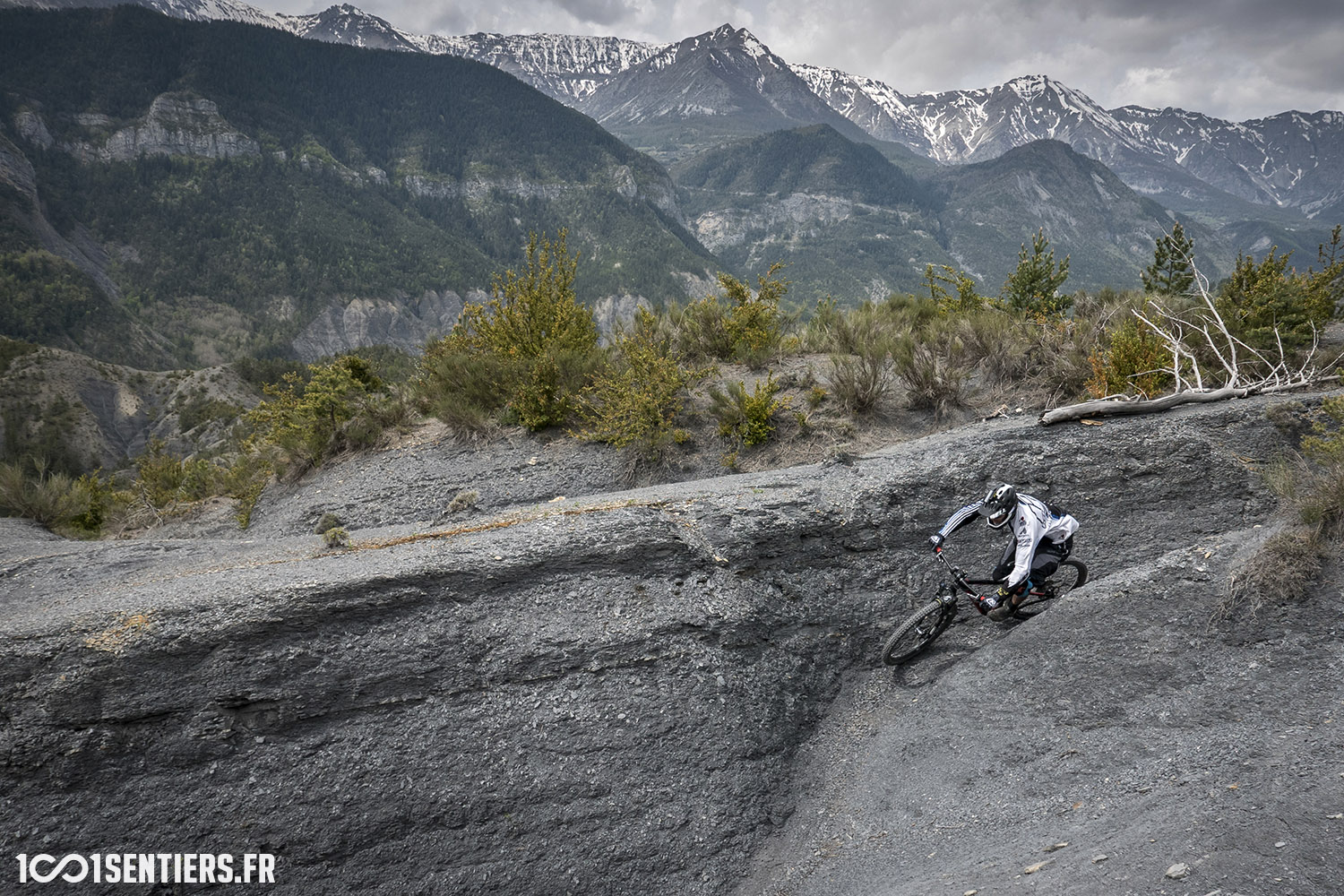 Gris, rouge, jaune, vert, bleu... Un trip riche en couleurs, en sentiers variés et en grosses sensations dans les Alpes-Maritimes
Grey, red, yellow, green, blue... A colorful, trails-ful and emotions-ful trip in rainbow Maritime Alps
Soleil, montagnes à perte de vue et sentiers alléchants... Les Alpes-Maritimes dans toute leur splendeur. Un terrain de jeu aussi magique qu'inépuisable !
Sun, mountains to the horizon and tantalizing single-track... That's Maritime Alps. A playground as magical as inexhaustible!
Avec nous, des riders venus des quatre coins du monde pour dévaler les plus beaux spots azuréens et s'immerger pendant quatre jours avec 1001sentiers en pleine montagne. With us, riders coming from all over the world to enjoy the nicest spots of Maritime Alps and retreat during 4 days with 1001sentiers in deep mountains.
Feu de cheminée, bonnes lectures et génépi maison... Les soirées sont pas mal aussi.
Fireside post-ride, with good reading and home-made digestive... Not bad too off the bike.
Au-delà des sensations de pilotage, le plaisir de reposer les crampons en altitude au sortir de l'hiver. 
                                                                         Beyond riding sensations, the pleasure to be back in altitude at the end of winter.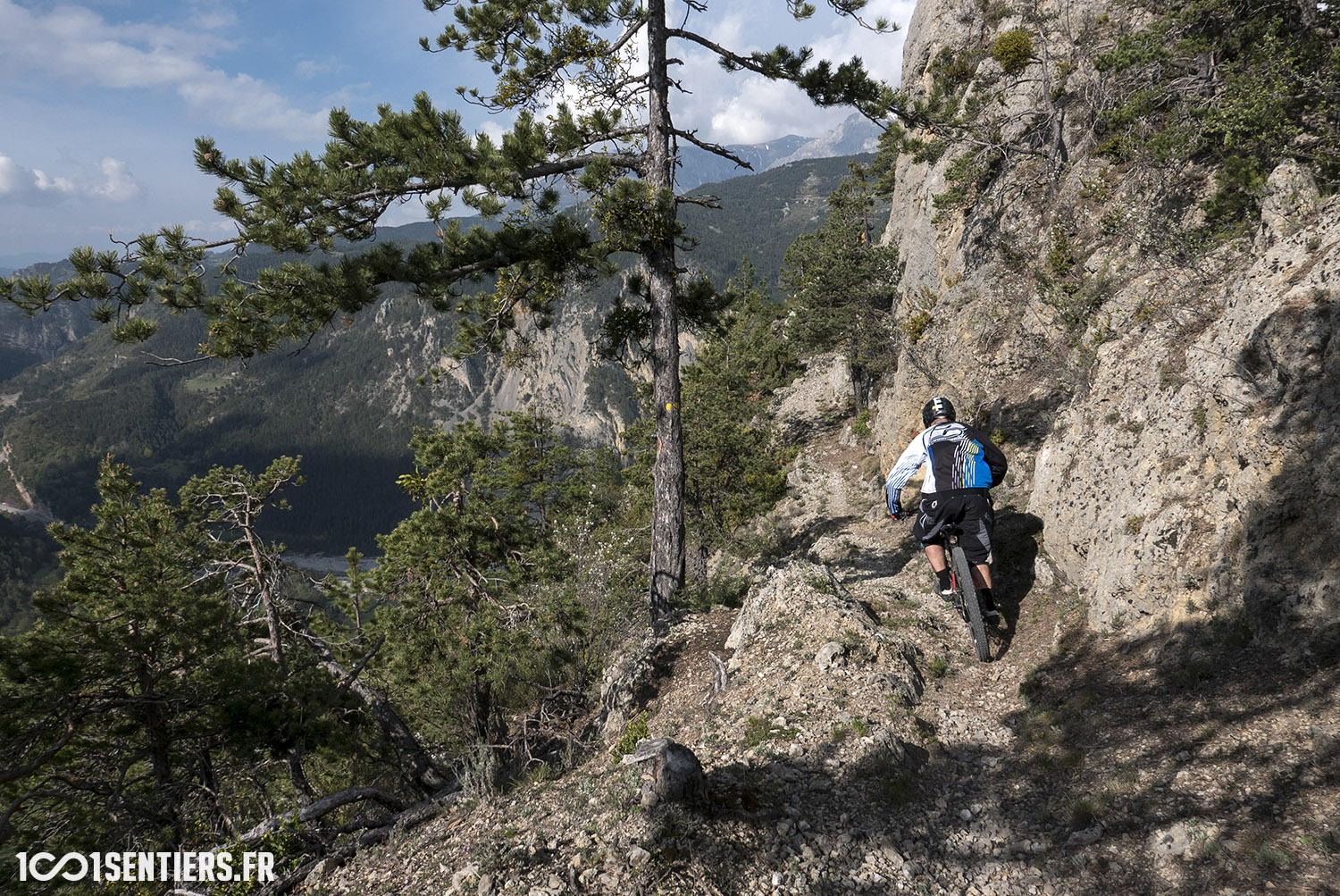 Durant trois jours, on s'est enquillé les plus beaux sentiers des Portes du Mercantour, on a traversé leurs alpages grandioses, on a tricoté dans les épingles, et bien sûr on a fait le plein d'adrénaline sur les fameuses terres grises et rouges de ce paradis VTT ! 
During three days, we went down the most flowy Portes du Mercantour' trails, we rode through its wonderful alpine fields, we experienced some switchback series, and of course we also took fun shredding the famous grey earth and red canyons of this MTB paradise!
Quand les sentiers sont aussi spectaculaires que les paysages !  When trails are as spectacular as landscapes!
Pour multiplier les descentes et prendre un max de plaisir jusqu'à la dernière heure, on a mis à profit la navette 1001sentiers.
The 1001sentiers' van was also part of the trip, to multiply descents and take maximum of pleasure until  the end of the adventure.
Dans les Alpes-Maritimes, l'enduro se caractérise par des sentiers fantastiques, mais aussi par une grosse culture de la compétition. Alors, après trois jours de ride plaisir et décontracté dans l'immensité des montagnes, de navettes et de bons repas, nous quittons les Portes du Mercantour au matin du dernier jour de cet Enduro Riding Camp pour nous rendre sur le littoral, accrocher une plaque de course sur nos bikes, mettre quelques barres énergétiques dans nos poches et affronter les 250 concurrents de l'Enduro Mondraker de l'Escarène, 3ème manche de l'Urge 1001 Enduro Tour. Revivez cette course ici.
In Maritime Alps, enduro means lovely trails, but also a big culture of racing, since this discipline has been created there. Thus, after three days of riding for fun without pression into wild mountains, of shuttles and good meals, we leave Portes du Mercantour the last day of this Enduro Riding Camp to move to coastal country, to fixe a plate on our bikes, put some energy bars in our pockets, and race against 250 other riders on the Enduro Mondraker of l'Escarène, 3rd round of the Urge 1001 Enduro Tour.
Et c'est ainsi que se termine ce 1er Enduro Riding Camp Portes du Mercantour. Un trip pour vététistes insatiables, passionnés et bons vivants, comme on les aime chez 1001sentiers. Vous en faites partie ? On vous attend sur nos prochaines aventures, notamment le Trip Enduro Mercantour XXL et le Road Trip Warm'up EWS.
And that's how this 1st Enduro Riding Camp Portes du Mercantour ends. A trip for passionated and epicurean riders, as we love at 1001sentiers. You're part of them? We're waiting for you on our next adventures next adventures, especially the Trip Enduro Mercantour XXL and the Road Trip Warm'up EWS.