Une aventure VTT d'une toute autre dimension !
Comme vous le savez, on est particulièrement chauvins chez 1001sentiers, on aime profondément nos chères Alpes-Maritimes et on ne connait objectivement pas meilleur endroit au monde pour faire du VTT, avec des chemins de folie ridables toute l'année et une variété de terrains et de paysages juste hallucinante. Mais malgré la mer et les montagnes, malgré les terres grises et les terres rouges, malgré les forêts et la garrigue, malgré les voies romaines et les bikeparks, malgré toutes nos superbes courses et notre effervescente scène VTT, force est de constater qu'il nous manque un truc dans le 06 : des chemins de très haute-montagne accessibles à vélo. Eh oui, la majorité de nos lacs et tous nos sommets de plus de 2800m d'altitude sont dans le Parc Naturel National du Mercantour, et sont donc interdits à nos crampons. Il y a bien sûr largement de quoi faire autour, là n'est pas la question, mais dans notre obsession à régaler les amateurs de beau VTT, on tenait vraiment à vous faire goûter aux joies de ce genre d'univers, alors cette année on a décidé de délaisser notre petit coin de paradis pendant quelques jours en juillet, direction la vallée de l'Ubaye, dans les Alpes-de-Haute-Provence, pour trois jours d'aventure dans l'un des coins les plus sauvages d'Europe... Trois jours coupés du monde, entre 1900m et 3300m d'altitude, à fouler des sentiers époustouflants, à en prendre plein les yeux au milieu de paysages grandioses, à longer des lacs, à gravir des montagnes majestueuses, à dormir en refuges, à croiser des chamois et des marmottes, à jouer les freeriders sur des pierriers immenses, à faire des selfies au bord du vide, à contempler des levers et couchers de soleils somptueux, et à prendre un pied d'enfer sur des chemins mémorables ! Un trip d'autant plus incroyable qu'on l'a partagé avec notre ami Tito Tomasi, l'une des références mondiales de l'aventure VTT en montagne, qui nous a fait le plaisir de se joindre à nous pour ce Trip 3000 ! Ajoutez 10 participants aussi motivés que sympathiques, des conditions météo optimales, et voilà le résultat...
Not a classic mountain bike adventure, a huge one!
As you know, 1001sentiers is particularly chauvinist, we deeply love our dear Maritime Alps and objectively don't know better place in the world for mountain biking, with madness trails ridable 12 months a year and an amazing variety of terrain and incredible landscapes. But despite the sea and the mountains, despite the grey earth and red earth, despite forests and scrubland, despite the Roman roads and bikeparks, despite all our races and intense MTB scene, it is clear that we're missing one thing in the 06: very high mountain accessible by bike. Indeed, most of our lakes and peaks over 2800m of altitude are in the National Park of Mercantour, and therefore prohibited to our bikes. Of course, there are plenty to do around, that is not the question, but in our obsession to give great stuff to bikers, we really wanted to make you taste the joys of this kind of universe, so we decided this year to leave our paradise for a few days in July, towards the Ubaye valley, in the Alpes-de-Haute-Provence, for three days of adventuring in one of the wildest place in Europe... Three days into the wild, between 1900m and 3300m above sea level, in order to tread stunning trails, to take full eyes with wonderful landscapes, to ride along lakes, to climb majestic mountains, to sleep in shelters, to meet ibex and marmots, to play freeriders on huge slides, to make selfies over the void, to contemplate magnificent sunrises and sunsets, and take great fun on awesome trails! And who's better than our friend Tito Tomasi, one of the world's references for mountain biking adventure, to join us for this Trip 3000?! Add 10 motivated and friendly participants, plus great weather conditions, and here is the result...

Photos © Greg Germain / 1001sentiers.fr
Des sentiers spectaculaires, des lacs de partout, des montagnes à perte de vue, des nouvelles sensations de ride... Il y avait même de la neige. Une aventure, une vraie ! C'était parfois difficile, mais ça valait le coup, et que c'était beau ! Les images parlent d'elles-même.
Spectacular trails, awesome lakes, mountains out of sight, new riding sensations... we also found some snow. An adventure, a true one! Sometimes it was hard, but it was worth, and so nice! Just have to watch pictures to understand.
10 riders ravis d'être là, 2 guides ravis de partager leur passion... 12 vététistes réunis pour une aventure VTT inoubliable !
10 riders glad to be there, 2 guides glad to share their passion... 12 mountain bikers together for an unforgettable adventure!
Bleu, vert, blanc... Le trip débute tout en contrastes au lendemain d'un petit épisode neigeux en montagne !  
Blue, green, white... The trip starts with stunning contrasts the day after a snowy fall!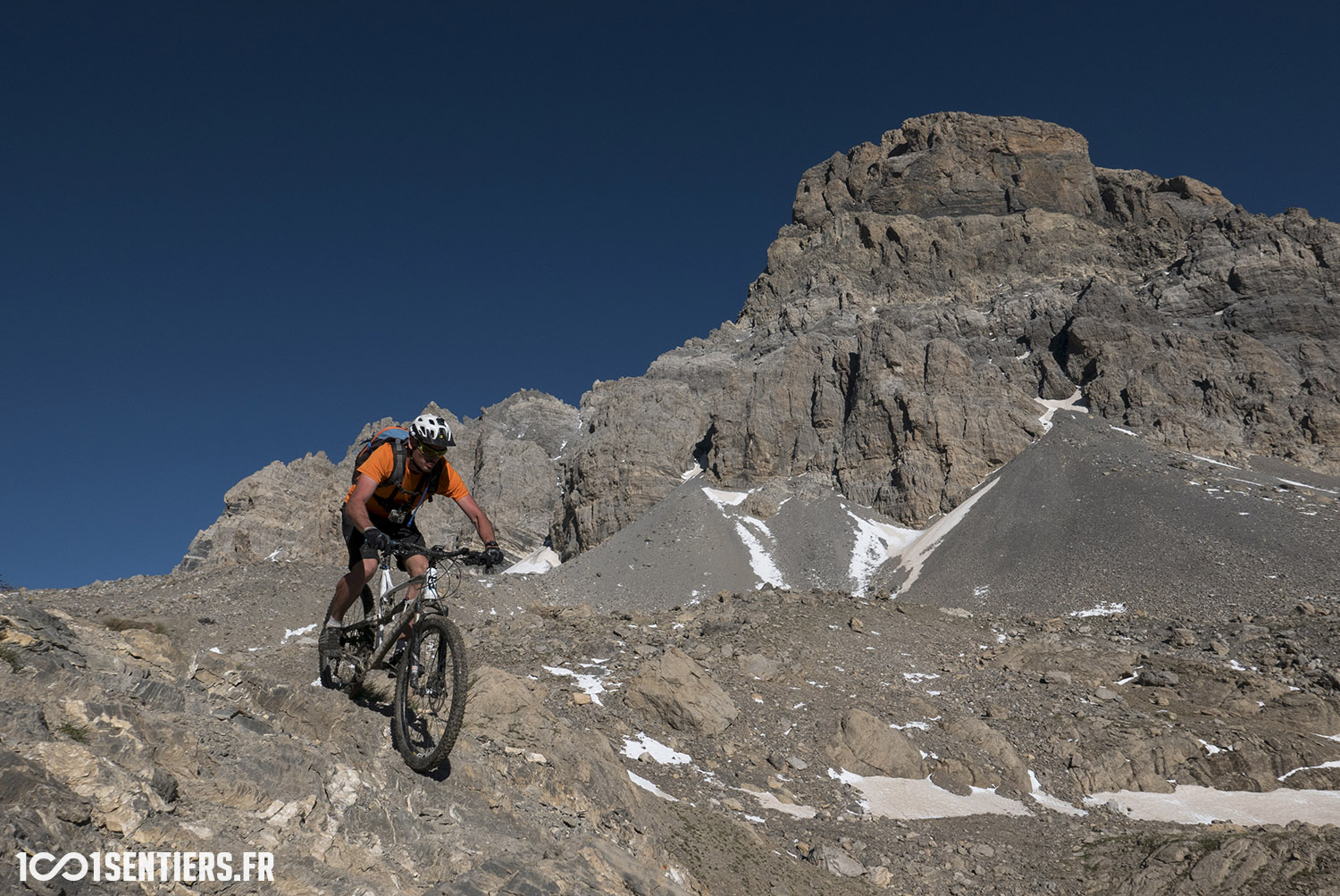 Après un premier jour dans les alpages, l'objectif principal du trip est de gravir des sommets de plus de 3000 m d'altitude, et surtout de les redescendre ensuite, sur des sentiers épiques et avec des méchantes montagnes tout autour !
After a first day in alpine prairies, the main goal of this adventure is to reach summits above 3000m of altitude, and most of all to ride them down after, on epic trails and with stunning mountains all around!
Alors pour y arriver, on a pédalé, on a porté, on a franchi des ponts, on a traversé des rivières...
Thus, to reach it, we have pedaled, hike-a-bike, crossed bridges and rivers...
Pas peu fiers d'être en haut... Et il y a de quoi !   More than proud to be at the top... They can!
Après l'effort, la récompense : la descente... et quelle(s) descente(s) ! Sur des terrains atypiques et au milieu de décors magiques.
After the effort, the award: descending... and what a descent! On original terrains and with magical scenery.
Fin du jour deux. Déjà accompli un sommet de plus de 3000m, franchi quatre cols majeurs, réalisé quelques portages coriaces, savouré cinq descentes d'anthologie, et accumulé plein de belles images et sensations. Ca se fête !
End of day two. Already climbed one summit above 3000m, passed four main cols, done some serious carrying, enjoyed five amazing descents, and earned many nice pictures and sensations. Time to celebrate all this!
Et on aime tellement ça que la moitié de l'équipe a décidé de remettre ça le troisième jour. Départ à 5h du matin pour grimper à 3300m, regarder le soleil se lever sur les Alpes, et s'offrir une descente de 800 m- dans la gravette avant le petit-déjeuner !
And we like it so much that half of the crew decided to continue on day three. Leaving the bed at 5am to climb to 3300m, admire the sun rise on the Alps, and taste a 800 m- descente in gravels before breakfast!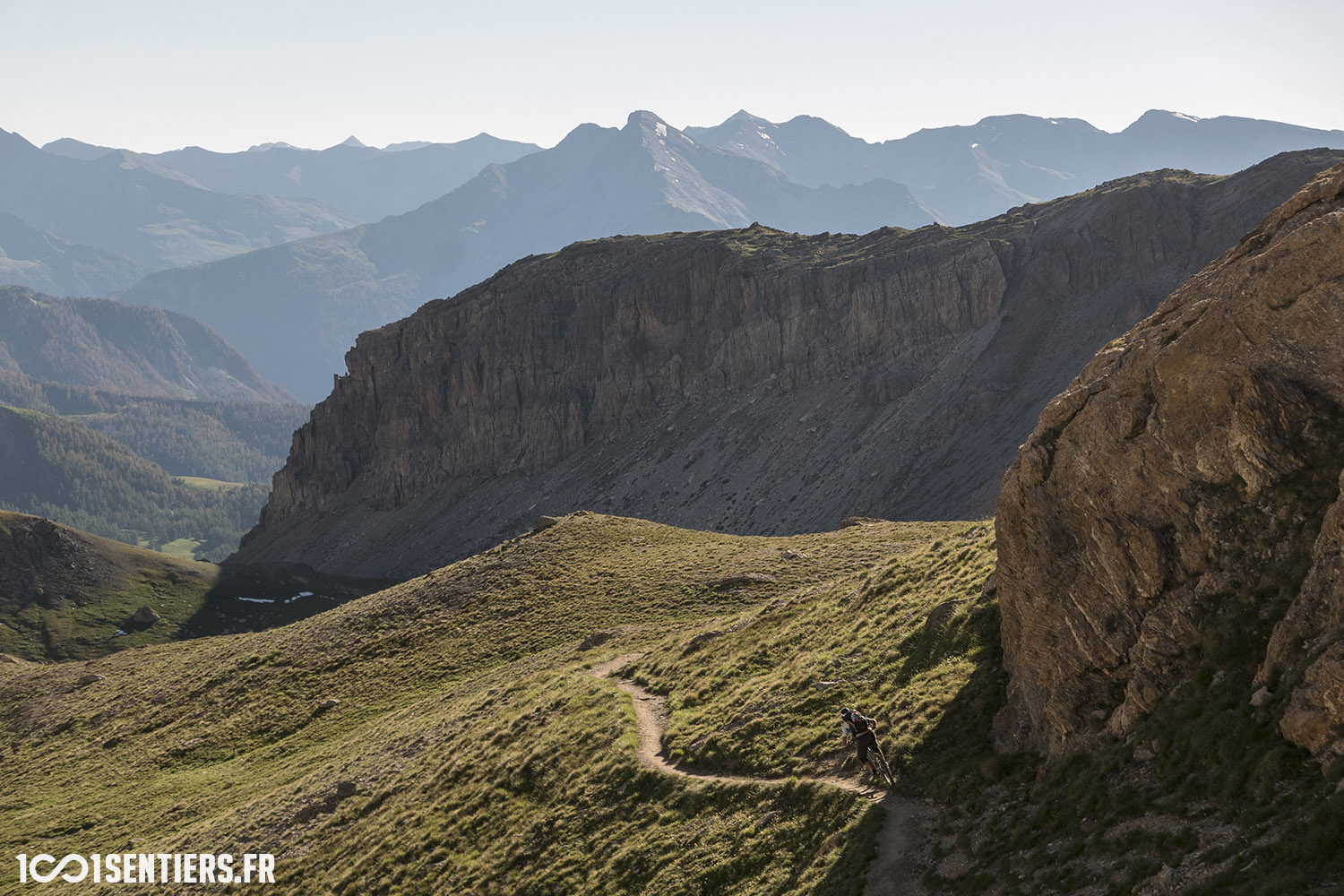 Puis on a enchainé avec encore 1500m de dénivelé négatif pour redescendre dans la vallée. Un festival de sentiers rapides, ludiques et en forêts, pour terminer ce Trip 3000 par une orgie de plaisir !
Then we continued with other 1500m of vertical drops to reach the bottom of the valley. A festival of playful trails, fast tracks and lovely woods, in order to take maximum of fun for the end of this Trip 3000!
Pour optimiser cette aventure, on a dormi dans des refuges perdus en pleine montagne, et on avait également organisé une petite navette 1001sentiers pour terminer le trip avec plus de D- que de montée.
To make this adventure happen in the best conditions, we slept in refuges lost into the wild, and we also did one shuttle to end this trip with more down than up.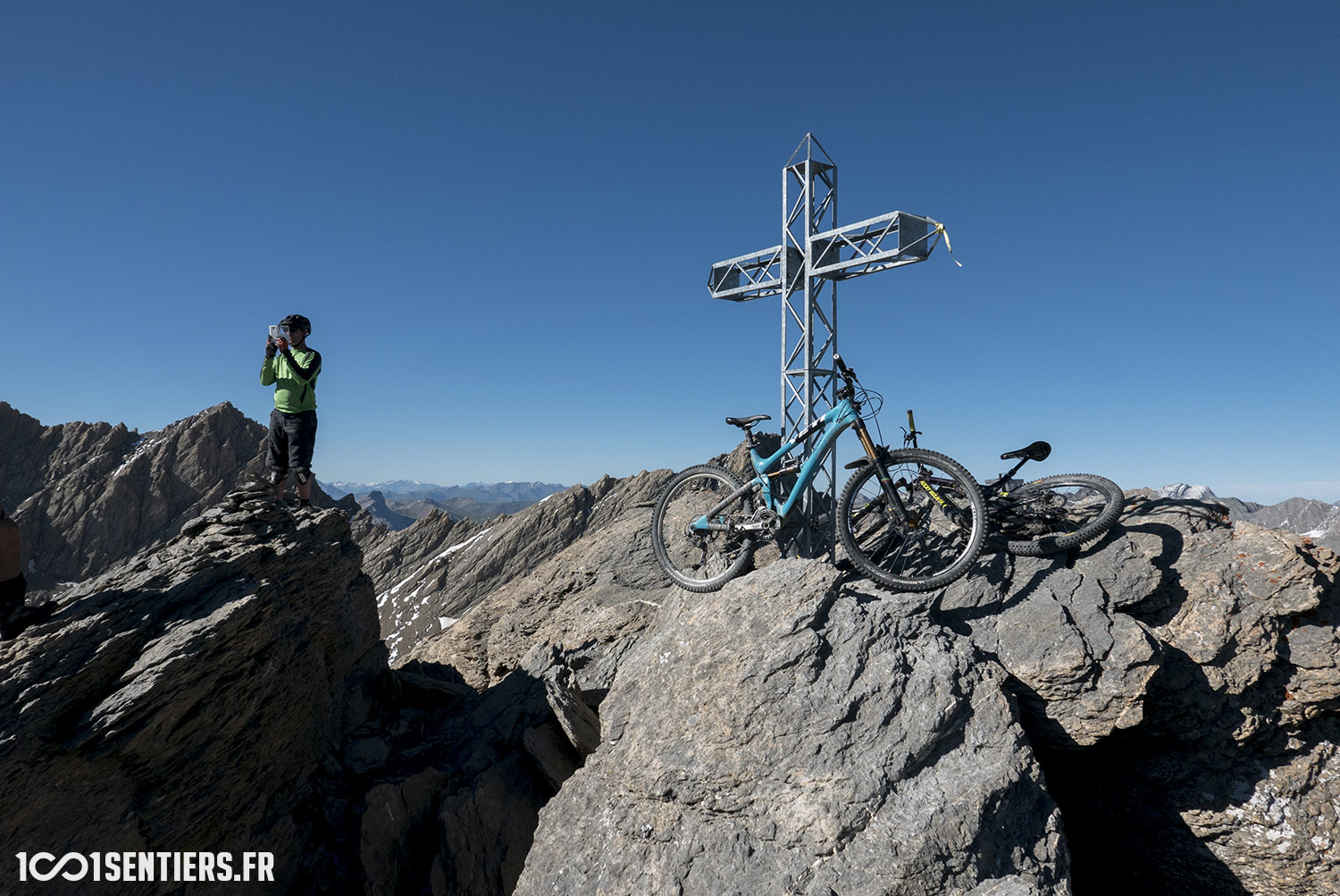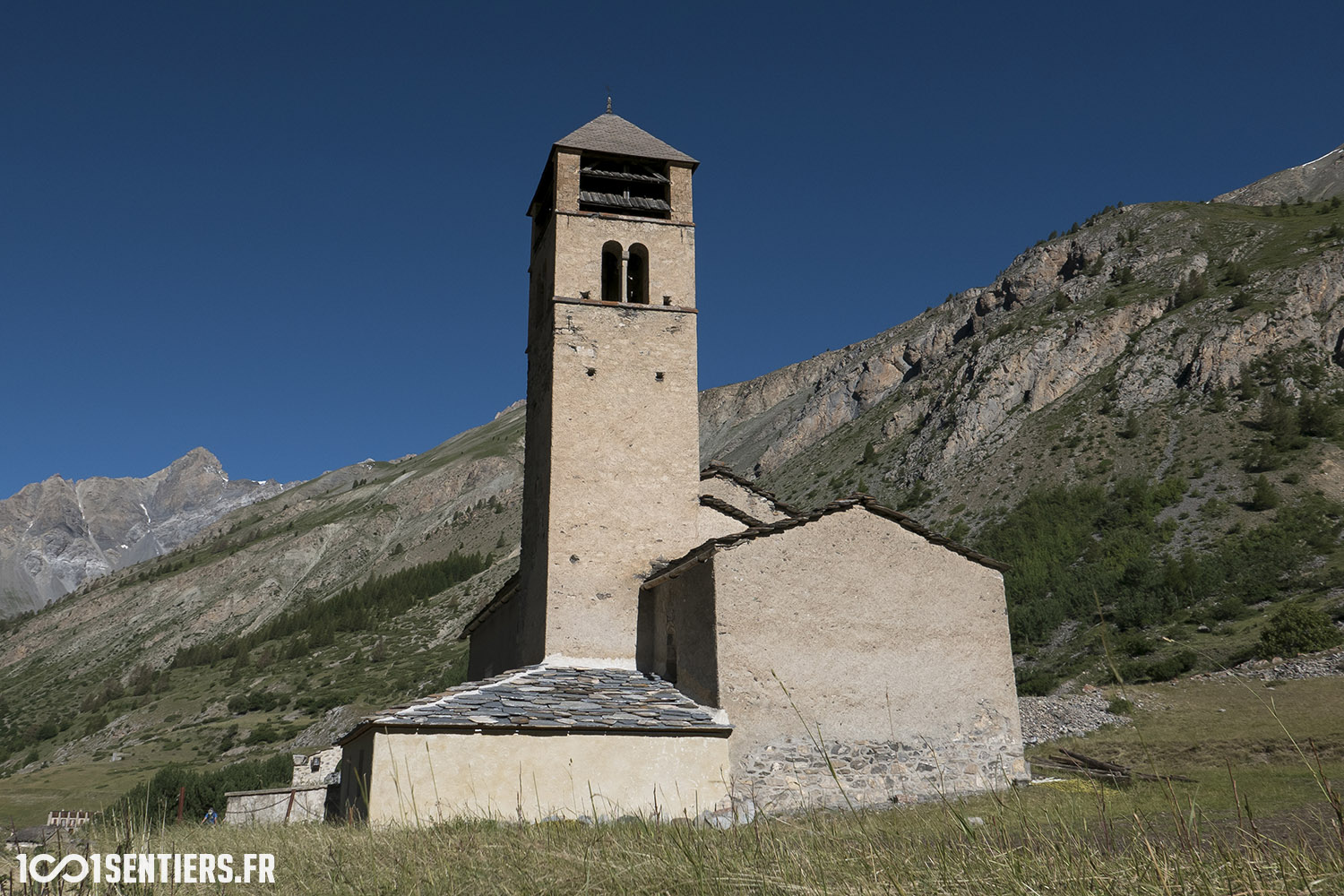 Et c'est ainsi que se termine ce 1er Trip 3000 1001sentiers avec Tito Tomasi. Rendez-vous en 2017 pour une nouvelle épopée alpine en haute-montagne, et tout au long de l'année dans les Alpes-Maritimes pour des dizaines d'aventures & stages 1001sentiers riches en beaux sentiers, en montagnes, en grosses sensations, en bonne nourriture, en patrimoine et en passion !
And that's how this 1st Trip 3000 1001sentiers with Tito Tomasi ends. See you in 2017 for another alpine adventure in high-mountains, and all the year long in Maritime Alps for tens of trips & courses  full of nice trails, mountains, big sensations, good food, patrimonial and passion!