Bien plus qu'un best of VTT du 06 !
Plus de 6000 km de sentiers dans les Alpes-Maritimes, et bien sûr 4 jours ne suffisent pas pour déguster tous les plus beaux, alors chaque année sur le Trip Enduro Mercantour XXL - le trip itinérant best of de 1001sentiers -, on varie les plaisirs. Cette année, on a pas mal bousculé notre classique Allos-Monaco afin d'inclure dans notre menu gastronomique de nouvelles vallées, de nouveaux sentiers, de nouvelles pépites tout spécialement sélectionnés par 1001sentiers pour gâter nos convives ! Ce à quoi on n'a pas touché en revanche, c'est aux ingrédients qui font tout le supplément d'âme et la magie des aventures 1001sentiers : ambiance de folie, repas généreux à base de produits de pays et spécialités locales, hotels perdus en montagne, savant mix de navettes et de pédalage, chemins à rallonge, plus de 10000 m de dénivelé négatif en 4 jours, une variété de terrains juste folle... et pour couronner le tout, des riders au top du top ! Quel trip ! Voici les photos...
Much more than a MTB best of in the 06!
There are more than 6000 km of trails in the Maritime Alps, and 4 days are not enough to taste all the nicest ones, so each year on the Trip Enduro Mercantour XXL - the 1001sentiers' best of trip -, we change the plans... Thus, this year, we didn't followed our classical Allos-Monaco in order to add in our gastronomic menu some new valleys, new single-tracks, new jewels especially selected by 1001sentiers to satisfy the riders! Changing the itinerary, but not touching to all the other ingredients that make the soul supplement and all the magic of the adventures 1001sentiers: an amazing and friendly atmosphere, generous meals with fresh products and local specialities, hotels lost into the mountains, uphills mixing perfectly shuttling and pedaling, endless trails, more than 10000m of descending in four days, a crazy variety of terrains... and, icing on the cake: the best riders ever! What a trip! Here are the photos...
En route pour 4 jours de pur ride dans le Mercantour !     Let's go for 4 days of pure riding in the Mercantour massif!
En premier lieu, le Trip Enduro Mercantour XXL, c'est des chemins de luxe...
Firstly, the Trip Enduro Mercantour XXL, that's top class trails...
De la montagne à la mer, alpages et forêts, terres rouges et terres grises, single-tracks et grands espaces... Toute la variété et toutes les couleurs des Alpes-Maritimes concentrées dans un même trip par 1001sentiers !
From the mountains to the sea, alpine meadows and forests, red earth and grey earth, single-tracks and wide places... All the variety and all the colors of the Maritime Alps concentrated in the same trip by 1001sentiers !
Le trip a débuté dans le brouillard et la pluie.
The trip started with some fog and rain.
...Mais le soleil est vite revenu nous rejoindre.
...But the sun quickly joined us!
Au-delà du ride, le Trip Enduro Mercantour XXL, c'est aussi...
Beyond the riding, the Trip Enduro Mercantour, that's also...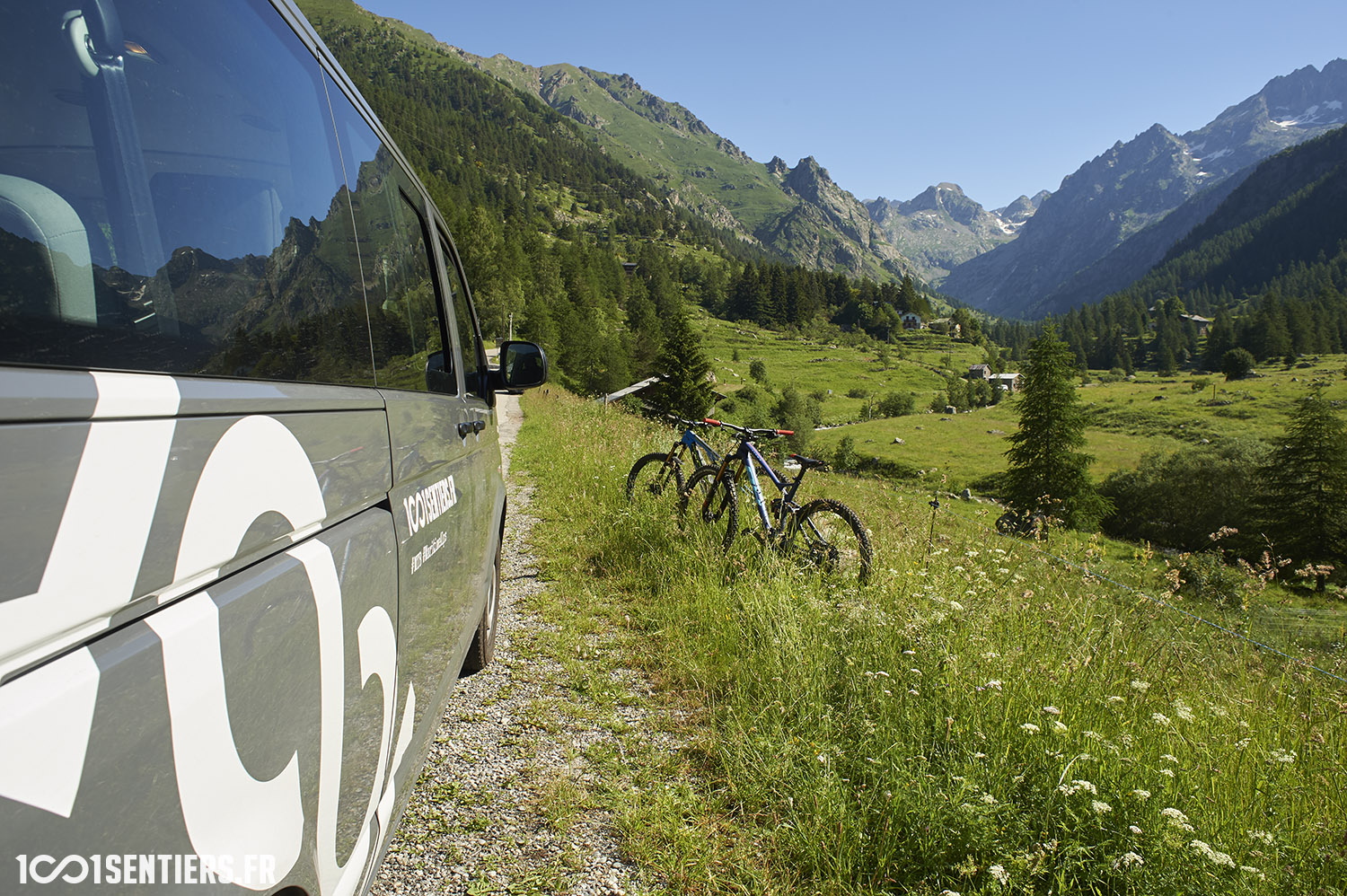 4 jours d'immersion au cœur des montagnes.      4 days immersed into the mountains.
4 jours de délire avec une fine équipe de passionnés.      4 days of fun with a great and passionate crew.
4 jours de bonne bouffe aussi.      4 days of good food also.
Pas de sectarisme, enduros & e-bikes réunis pour la bonne cause.
No bigotry, enduros & eMTB together for good biking.
Toutes les conditions réunies pour 4 jours mémorables sur le vélo et à côté...
All the best put together for 4 amazing days on and out the bike...

Yes, on s'est régalé !
Indeed, we had great time!
Merci les gars. Vivement la prochaine aventure!
Thanks guys. Looking forward to the next trip!