Portfolio Riding Souvenirs 1001sentiers #3
A défaut de pouvoir rider et partager avec vous tous ces sentiers et fabuleux moments à cause de la crise du covid-19, j'ai ouvert la malle à souvenirs et ressorti 10 photos épiques des aventures les plus marquantes, des événements phares et des rencontres les plus fortes de ces 10 années de Guiding 1001sentiers. Chaque semaine tant que le confinement durera, j'en publierai 10 nouvelles. En espérant que cela vous rappellera de bons souvenirs et vous incitera à repartir à l'aventure avec moi à la reprise...
Instead of being able to ride and share with you all these wonderful trails and fabulous moments because of the covid-19 crisis, I have opened the souvenirs box and pulled out 10 epic photos of the most significant adventures, biggest events and strongest meetings of these 10 years of Guiding 1001sentiers. Each week as long as the confinement lasts, I will publish 10 new pictures. Hoping that this will remind you of some great memories and encourage you to set off again on an adventure with me at the re-start...
2009
Première année de guiding et déjà j'embarque des vététistes en montagne pour rider des chemins insolites et profiter des joyaux naturels. 11 ans plus tard, l'esprit n'a pas changé.
First year of guiding and I'm already bringing bikers in the mountains to ride really special trails and enjoy the Nature's jewels. Elever years later, the spirit is still the same.
2012
La Trans-Provence fait partie des courses qui ont fait briller le 06 à l'international au cours de la dernière décennie. Au fil des années, j'ai eu le plaisir d'apporter ma modeste pierre à l'édifice en aidant Ash Smith à préparer les premières éditions, en lui suggérant des concepts et des sentiers, et comme ici en 2012 en guidant des clients sur le tracé de cette épreuve mythique.
The Trans-Provence is one of those races who turned the world's eyes on the Maritime Alps along the last decade. During these years, I had the pleasure to modestly participate into this adventure, by helping Ash Smith to prepare the first editions, by sharing some concepts and trails, and by guiding some clients on the route of this prestigious race like here in 2012.
2013
Après Thibaut Daprela et Gaetan Vigé dans le portfolio de la semaine dernière, voici un autre top pilote qu'on a eu le plaisir d'avoir en stage sur les Vouilloz Ride Sessions 1001sentiers lorsqu'il était jeune : Kevin Marry.
After Thibaut Daprela and Gaetan Vigé in the last week's portfolio, here is another top pilote that we had the pleasure to host on the Vouilloz Ride Sessions 1001sentiers when he was young: Kevin Marry.
2014
Traverser un bunker à VTT au beau milieu de la montagne entre deux savoureux morceaux de sentiers, une expérience unique et une nouvelle occasion pour votre guide de vous raconter l'histoire et le patrimoine des spots.
Crossing a blockhaus by bike into the mountains between two tasty trails, a unique experience and another opportunity for your guide to tell you the history and patrimonial of the riding spots.
2015
Un de mes sentiers favoris et une vue de dingue sur cette crête que je ne me lasse pas de partager durant le Trip Enduro Mercantour XXL et sur les Sessions Navettes.
One of my favorite trails and such an amazing view on this ridge, that I never resist to add on the riding list of the Trip Enduro Mercantour XXL and Shuttle Days.
2016
Au fil des ans et des trips partagés avec mes clients, l'après-ride 1001sentiers est devenu presque aussi convoité que les sentiers ridés la journée. Entre les bières du pays, le bon vin français et le génépi-maison de Greg, on a tout ce qu'il faut pour arroser (avec modération) ces belles soirées entre passionnés !
With the years and after all these tours shared with my guests, the after-ride 1001sentiers became as coveted as the trails rode during the day. Between the local beers, the french wine and Greg's home-made génépi, we have everything we need to celebrate (in moderation) these trips!
2017
Une magnifique journée de ride automnal dans les sublimes terres rouges avec Carlo, un client fidèle devenu un bon pote.
An amazing autumn ride in the stunning red earth with Carlo, a loyal guest and good friend.
2018
Chaque année sur le Trip 3000, on vit des aventures véritablement inoubliables ! En 2018, avec Tito Tomasi, on emmène une poignée de vététistes découvrir un glacier sauvage, cerise sur le gâteau après 3 jours de trip dans les Alpes. Magique.
Each year on the Trip 3000 we live unforgettable adventures! In 2018, with Tito Tomasi, we bring a few riders discover a wild glacier, icing on the cake after 3 days of riding in the Alps. Magic.
2019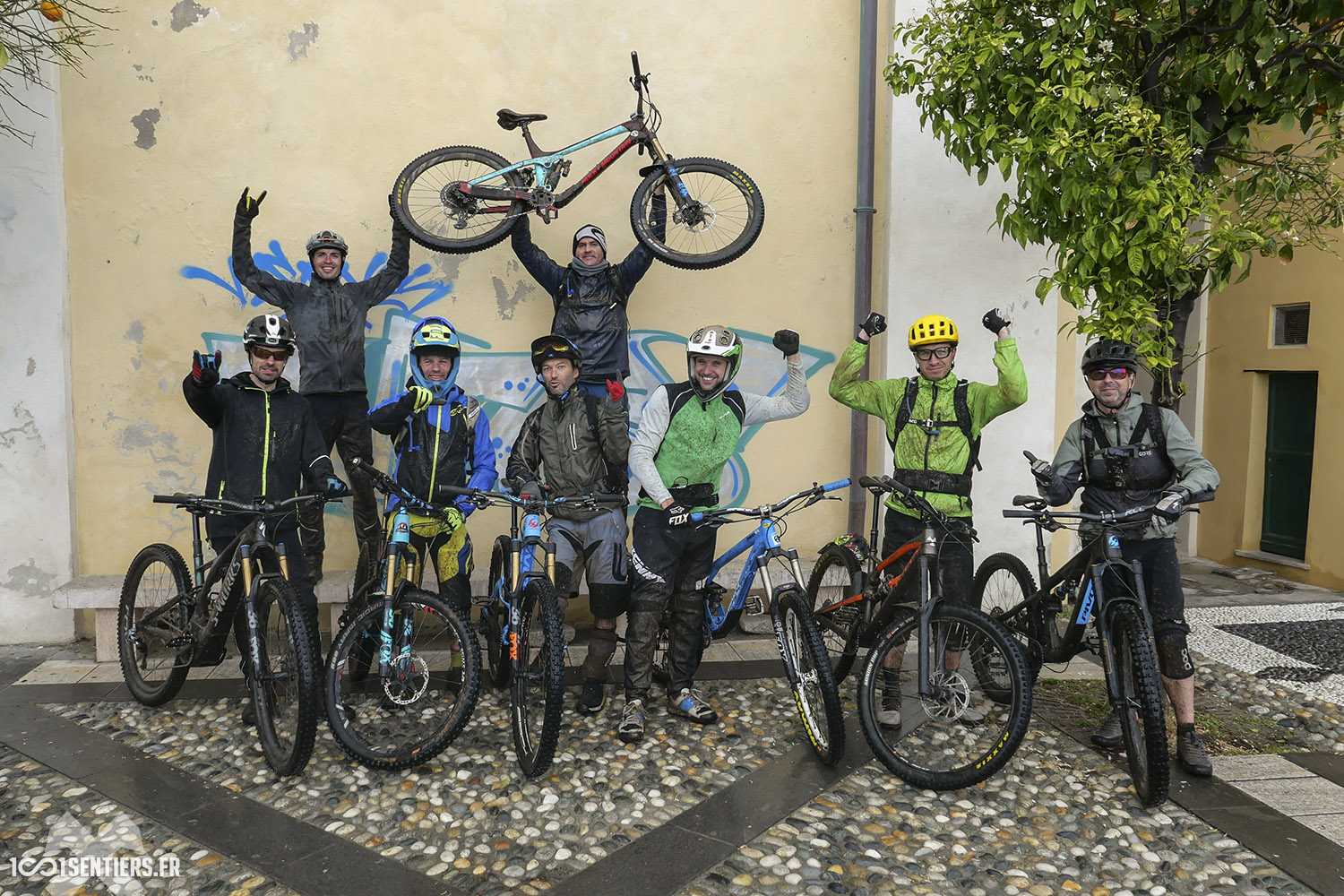 Trempés jusqu'à l'os mais grand sourire aux lèvres après une journée sous la flotte à Finale Ligure au printemps 2019, dernière étape du nouveau trip 1001sentiers : le Trip Enduro Best of Riviera, qui vous emmène sur tous les plus beaux spots enduro de la Riviera entre Nice et Finale Ligure.
Spring 2019, all wet but still smiling after a rainy day at Finale Ligure, last step of the brand new trip 1001sentiers: the Trip Enduro Best of Riviera, making you ride the best enduro spots of the Riviera from Nice to Finale.
2019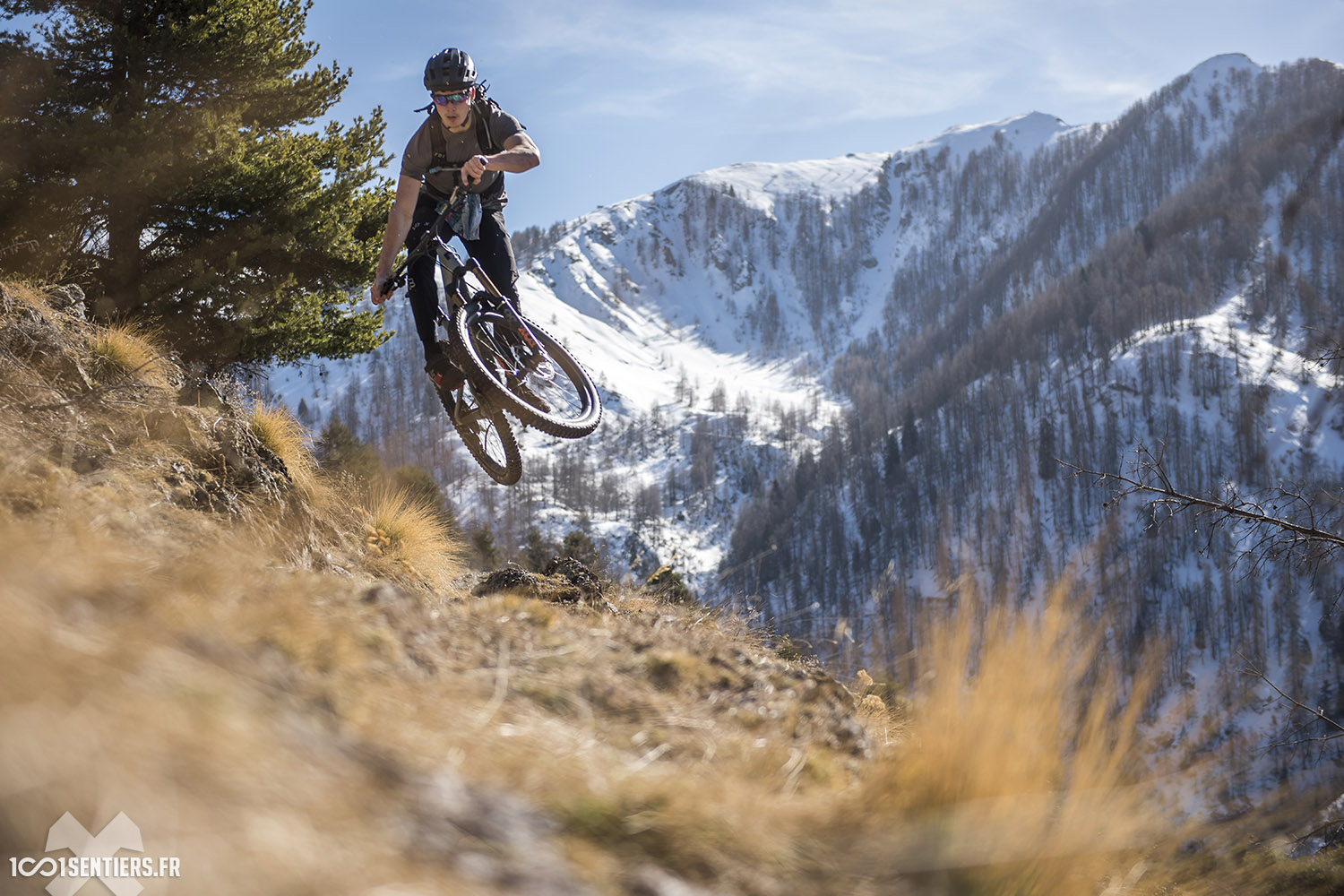 Et pour terminer ce nouveau portfolio de 10 ans de guiding 1001sentiers, une belle image du champion Loris Vergier qui s'est joint à nous en 2019 à l'occasion d'une aventure hivernale dans les montagnes du Mercantour. Un bon bol de nature avant d'attaquer la saison coupe du monde.
And to close this new portfolio of 10 years of guiding 1001sentiers, a nice photo of Loris Vergier who joined us in 2019 for a winter adventure in the Mercantour mountains. A nice tour into the wild before starting the world cup circuit.