Portfolio Riding Souvenirs 1001sentiers #4
A défaut de pouvoir rider et partager avec vous tous ces sentiers et fabuleux moments à cause de la crise du covid-19, j'ai ouvert la malle à souvenirs et ressorti 10 photos épiques des aventures les plus marquantes, des événements phares et des rencontres les plus fortes de ces 10 années de Guiding 1001sentiers. Chaque semaine tant que le confinement durera, j'en publierai 10 nouvelles. En espérant que cela vous rappellera de bons souvenirs et vous incitera à repartir à l'aventure avec moi à la reprise...
Instead of being able to ride and share with you all these wonderful trails and fabulous moments because of the covid-19 crisis, I have opened the souvenirs box and pulled out 10 epic photos of the most significant adventures, biggest events and strongest meetings of these 10 years of Guiding 1001sentiers. Each week as long as the confinement lasts, I will publish 10 new pictures. Hoping that this will remind you of some great memories and encourage you to set off again on an adventure with me at the re-start...
2011
Les Alpes-Maritimes sont depuis toujours un prolifique vivier de champions VTT. Chez 1001sentiers, on a apporté notre pierre à l'édifice en animant des stages pour les enfants dès le début, puis en organisant le 1001 Enduro Kid Tour pour former la nouvelle génération de pilotes azuréens.
The Maritime Alps is an amazing mountain bike champions since years and years. At 1001sentiers, we participate to this history since a decade by organizing some kids courses and then the 1001 Enduro Kid Tour, a championship to prepare the new generation of local top riders.
2013
La neige ne tombe généralement qu'une seule fois par décennie dans l'Esterel. Il fallait que ça tombe en 2013 pile le week-end où on organisait une session pilotage avec Nicolas Vouilloz et Laurent Solliet. On s'était grave gelé ce jour-là, mais on avait tout de même bien travaillé et ridé !
The snow generally falls only once the decade in the Esterel massif. Unfortunately, it happened in 2013 exactly the same weekend when we were organizing a riding course with Nicolas Vouilloz and Laurent Solliet. What a cold day it was, but anyway we worked well and rode a lot!
2014
De belles meules de fromage du pays, souvenir d'une Aventure Alpine de 2014 où j'avais proposé la visite d'une fromagerie avec dégustation au beau milieu des montagnes, avant de repartir rouler sur les sentiers gouteux du 06.
Some nice local cheese wheels, memory of an Alpine Adventure from 2014. This day, I proposed the visit of a cheese dairy with tasting in the mountains, followed by some tasty trails riding. 
2014
Ciel bleu, alpages verdoyant, terres grises et une belle bande de riders réunis en ce début d'été 2014 pour tourner la toute première vidéo 1001sentiers.
Blue sky, green meadows, grey earth and a great riders crew with me this summer day of 2014 for the shooting of the first ever video 1001sentiers.
2016
Silhouettes de bikers en mode portage durant une Reco Transvésubienne, ces week-ends organisés par 1001sentiers depuis des années pour permettre aux candidats à la Transv d'arriver bien armés sur la ligne de départ de cette course épique.
Silhouettes of riders shouldering their bikes during a Transvesubienne Recce, those training weekends organized by 1001sentiers to help the participants of this epic race to arrive well armed on the start line.
2017
Paysages exceptionnels, montagnes à perte de vue, chemins féériques... Bienvenue sur le terrain de jeu 1001sentiers ! Cette photo a été prise en 2017 durant la 2ème édition du fameux Trip 3000 co-organisé avec Tito Tomasi.
Gorgeous landscapes, endless mountains, lovely trails... Welcome on the playground 1001sentiers! This photo have been captured in 2017 on the second edition of the one and only Trip 3000 organized in partnership with Tito Tomasi.
2017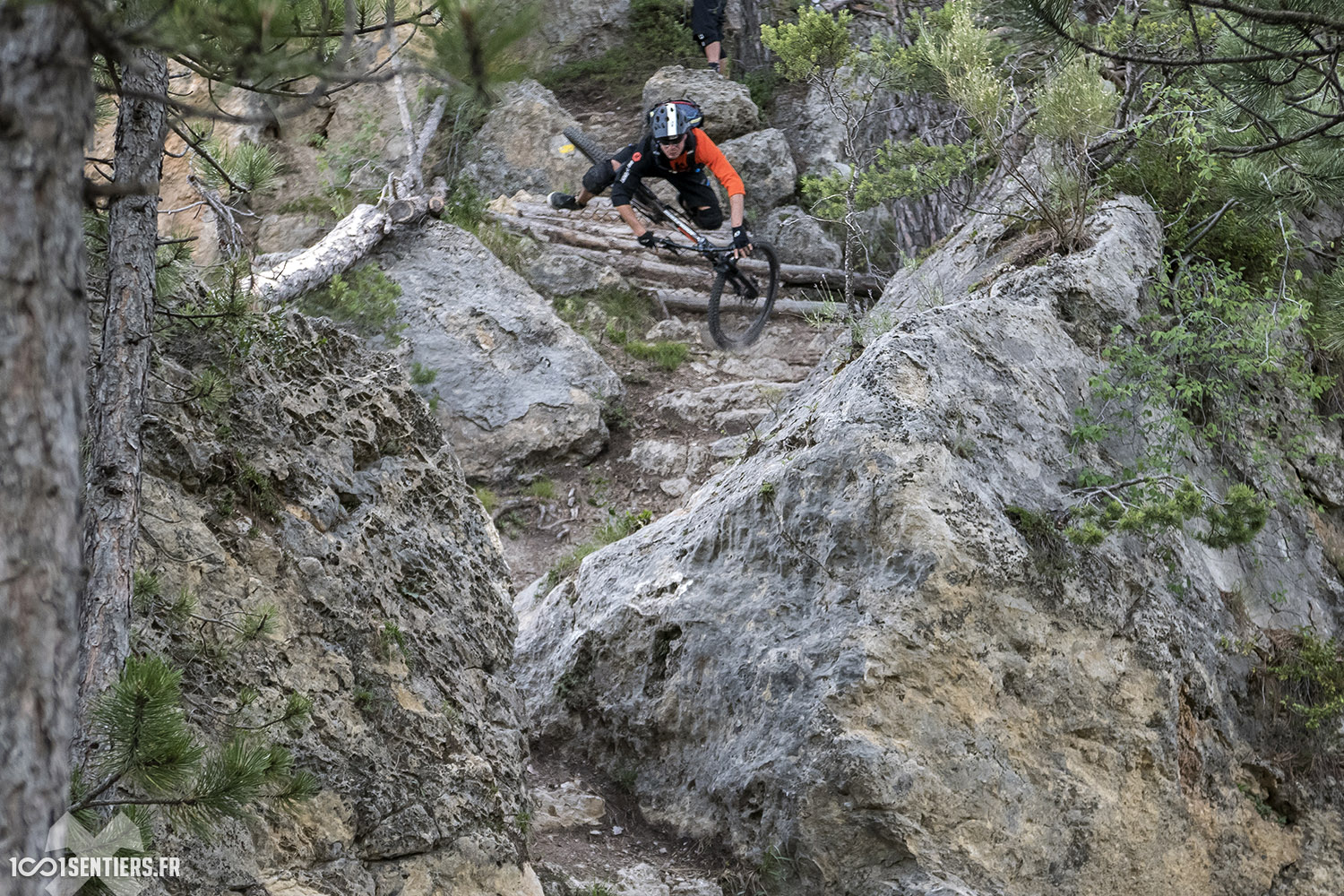 L'un des plus beaux crashs de ces 10 ans d'encadrement... Andrei chute avec style sur ce spectaculaire passage à Valberg durant le Trip Enduro Mercantour XXL.
One of the nicest crash of these 10 years of guiding... Andrei flying with style over this stunning section at Valberg during the Trip Enduro Mercantour XXL.
2018
Ce n'est pas une rivière glacée en crue qui va gâcher notre plaisir et nous empêcher de rider... Hiver 2018, Sospel, même pas mal !
Not even an icy river in flood will stop us and spoil our pleasure... Winter 2018, Sospel, let's go!
2019
Il y a des fois où être un guide entrainé et expérimenté ne suffit pas. Avec cette bande, il faut aussi avoir les oreilles et le foie bien préparés... Je ne pouvais pas évoquer les meilleurs souvenirs de ces 10 ans d'aventures sans vous montrer cette équipe de joyeux lurons, bons vivants, et accessoirement bons riders lorsqu'il n'y a plus rien à manger et boire.
Sometimes, being a trained and experimented guide is not enough. With this gang, you also need really-skilled ears and liver... I couldn't remind the best memories of these 10 years of adventures without showing you these crazy guys, good living people, and pretty good riders when there is nothing left to eat and drink.
2019
Pour clore en beauté ce 4ème portfolio "10 ans de guiding, 10 photos souvenirs", un magnifique ride matinal au-dessus de la mer de nuages. Rendez-vous à la fin du confinement pour une nouvelle Mission Lever de Soleil !
To close this 4th portfolio "10 years of guiding, 10 souvenirs photos", a wonderful morning ride above the sea of clouds. See you at the end of the lockout for another Sunrise Mission lit it!