Portfolio Riding Souvenirs 1001sentiers #2
A défaut de pouvoir rider et partager avec vous tous ces sentiers et fabuleux moments à cause de la crise du covid-19, j'ai ouvert la malle à souvenirs et ressorti 10 photos épiques des aventures les plus marquantes, des événements phares et des rencontres les plus fortes de ces 10 années de Guiding 1001sentiers. Chaque semaine tant que le confinement durera, j'en publierai 10 nouvelles. En espérant que cela vous rappellera de bons souvenirs et vous incitera à repartir à l'aventure avec moi à la reprise...
Instead of being able to ride and share with you all these wonderful trails and fabulous moments because of the covid-19 crisis, I have opened the souvenirs box and pulled out 10 epic photos of the most significant adventures, biggest events and strongest meetings of these 10 years of Guiding 1001sentiers. Each week as long as the confinement lasts, I will publish 10 new pictures. Hoping that this will remind you of some great memories and encourage you to set off again on an adventure with me at the re-start...
2011
Naturellement, en tant que moniteur VTT professionnel, j'organise régulièrement des stages pilotage sur les spots du 06, comme ce jour-là où nous travaillions sur les pistes d'Auron. Cela dit, comme vous le savez, je me suis aussi spécialisé dans l'aspect guiding de cette activité et me régale depuis dix ans à vous concocter des aventures vraiment inoubliables en montagne.
Obviously, as a professional MTB instructor, I'm used to coach skills workshops on the Martime Alps' spots, like this day on the Auron bikepark tracks. But as you know, I've also specialized myself into the guiding aspect of this job and what I prefer the most is to cook really unforgettable adventures in the mountains for you.
2012
Toujours côté coaching, j'ai le plaisir d'organiser depuis 2012 des stages pilotage avec le décuple champion du monde Nicolas Vouilloz (démonstration nose-turn sur la photo) et Laurent Solliet (Extrain) : les Vouilloz Ride Sessions & Vouilloz E-Training. Huit ans après cette toute première édition, les deux jeunes participants qu'on voit sur la photo sont devenus aujourd'hui des pilotes pro internationaux : Thibaut Dapréla (à gauche) et Gaetan Vigé (à droite).
Still about coaching, I have the pleasure since 2012 to organize MTB courses with the 10-times world champion Nicolas Vouilloz (nose-turn demonstration on the photo) and Laurent Solliet (Extrain) : the Vouilloz Ride Sessions & Vouilloz E-Training. Eight years of the first edition, the two young participants that you can see on this photo are today pro-riders: Thibaut Dapréla (left) and Gaetan Vigé (right).
2013
Ce sentier merveilleux qu'on a roulé en 2013 n'existe plus aujourd'hui, ravagé par une exploitation forestière. Nostalgie.
This wonderful trail we rode in 2013 is not existing anymore today, damaged by forest workers. Nostalgia.
2014
Les navettes consituent depuis 2014 une part importante de l'activité guiding 1001sentiers. Quel bonheur de vous accueillir dans mon van pour vous emmener découvrir et vous régaler sur les plus beaux singles des Alpes du Sud, à la journée ou à l'occasion de trips sur plusieurs jours !
Shuttles are since 2014 a major part of the guiding 1001sentiers activity. What a pleasure to welcome you onboard in my van an to bring you discovering and having fun on the nicest single tracks of the Southern Alps, daily or on multi-days tours!
2015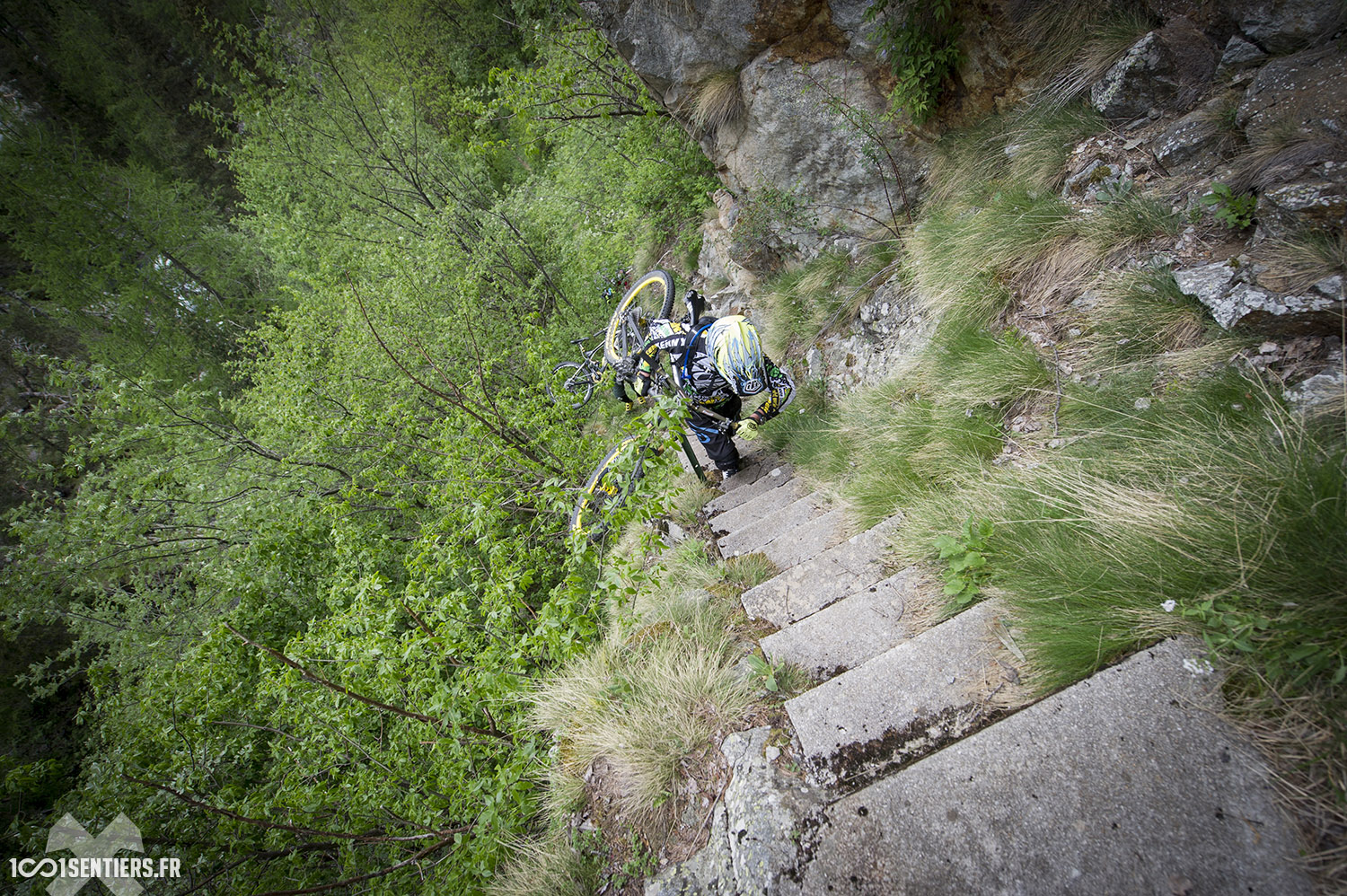 En effet, avec 1001sentiers il faut parfois se farcir des portages velus pour rejoindre les descentes, mais vous êtes toujours récompensés au centuple!
Indeed, with 1001sentiers sometimes you have to make some epic climbs to reach the descents, but you're always rewarded a hundredfold!
2016
Juillet 2016, 6h du matin, 3300 mètres d'altitude, massif de l'Ubaye, tout premier Trip 3000 avec Tito Tomasi. Après deux heures de portage de nuit, nous arrivons au sommet pour admirer le lever du soleil au beau milieu des Alpes ! Un moment grandiose pour débuter le dernier jour de ce trip hors norme en haute-montagne.
July 2016, 6am, 3300m above the sea level, Ubaye massif, first ever Trip 3000 with Tito Tomasi. After two hours carring by night, we're reaching the summit to admire the sunrise from the top, at the middle of the Alps! An awesome experience to start the last day of this epic alpine trip.
2017
Chaque année, j'aime organiser une Session Navettes le week-end précédant Noël. Et chaque année, Andy aime y jouer le Père Noël. Faites que cette tradition perdure... Merci Andy !
Each year, I like to organise a Shuttle Day the last weekend before Christmas. And each year, Andy comes like Santa Claus. Should this traditions continues... Thanks Andy!
2018
En 2018, Tito Tomasi (à droite) invite la légende canadienne Thomas Vanderham (au centre) et le fantastique photographe Margus Riga (derrière l'objectif) pour un trip dans les Alpes-Maritimes. Et c'est moi (à gauche) qui ai la noble tâche de leur organiser cela et de les emmener sur les meilleurs spots sauvages du 06. Merci Tito. Après 3 jours de ride et de photos pour Rocky Mountain, on célèbre la fin de l'aventure autour de bonnes bières fraiches.
In 2018, Tito Tomasi (right) invites the canadian legend Thomas Vanderham (middle) and the great photographer Margus Riga (behind the camera) for a trip in the Maritime Alps. And that's me (left) who have the honor to organise it and bring them on the nicest wild spots of the 06. Thanks Tito. After 3 days of riding and shooting for Rocky Mountain, we celebrate the end of the adventure with some fresh beers.
(Photo © Margus Riga)
2019
Printemps 2019, l'envie de retourner rouler en montagne était trop grande, on n'a pas résisté malgré la neige... Moment magique pour débuter trois jours de traversée du Mercantour avec une sacrée bande de riders suisses.
Spring 2019, the desire to go back in the backcountry for riding was too big, we didn't resist despite the snow... Wonderful time to begin a 3-days trip through the Mercantour with a great swiss crew.
2019
En 2019, la marque YT Industries confie à 1001sentiers la mission d'organiser et encadrer le lancement press international de son tout nouveau vélo, le Decoy. Dix jours de boulot intensif et de ride bien sympa avec les journalistes du monde entier.
In 2019, the brand YT Industries asks 1001sentiers to organise and guide the international press launch of its new bike, the Decoy. 10 days of hard work and great ride with journalists from all over the word.